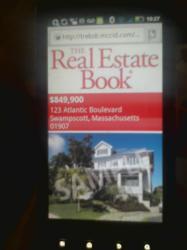 Hassle-free and quick, mobile home shopping feels...so good.
(PRWEB) September 17, 2012
On October 1st North America's largest real estate industry publisher, The Real Estate Book is re-launching its latest blockbuster mobile compatible issue in its trendy Boston North Shore real estate market. The re-launch comes with a data feed directly from MLS Property Information Network that creates a mobile compatible individual property website for every home listed by local realty agents.
The property listing fits neatly into a cell phone LED screen, iPhone, Smartphone, or any other internet capable device, and is sized to browse and scroll easily with no pesky thumb-forefinger resizing. The Real Estate Book is pioneering mobile compatible shopping in the real estate industry.
In a world of smaller, quicker, easier, The Real Estate Book says this new feature will help buyers save money. Local publisher Gil Starble comments, "The odds are that a buyer can get some choice home at a better deal because the sale price will be more negotiable when a home buyer contacts a listing broker directly."
Using the new feature, buyers can drive through their favorite neighborhoods along the North Shore of Boston and avoid talking to agents, who don't always have their best interest in mind. In the mobile listing buyers can see photos, school information, mapping, mortgage calculations, and other information about a target property right on the screen and without the hassle of human interaction.
"Integrating mobile into the browsing experience gives the consumer a better quality result," says Starble.
"We don't want to be peppered with unnecessary messages, and The Real Estate Book has created a list of Professional Etiquette Rules to coach agents to best apply the new mobile enabled browsing environment," says Scott Dixon, CEO of Newpoint Media Group, owner of the familiar brand. Listing agents respond to prospective buyers using the same media through which they were contacted. If an agent receives a text, they reply with a text. Dixon hails from Wayland, Massachusetts and on a recent trip back to Boston shared his passion and unreserved excitement to be back publishing on the North Shore.
Starble coaches his agents to embrace this new simple technology (see photo). He says, "To demonstrate how easy the new system is, I coach agents using a sample code that leads to my mobile property website. They simply text the number 85377 and then enter the text code T762805 into the body of the text message and moments later a link appears on their phones."
"I like to see people's reaction when they try it for the first time," says Starble. "This mobile experience is satisfying without the messy verbal badminton between quasi-interested buyers and busy agents."
Buyers shopping for North Shore Massachusetts real estate should definitely try the new system. The 5.5 million readers of The Real Estate Book digest and online at RealEstateBook.com have combined to send over 240,000 text leads since January. With a circulation of 15,000 Real Estate Book copies in Boston's North Shore, we can all enjoy the latest in mobile conveniences. The local Boston North Shore publisher is even providing demonstrations of their new mobile listing service. Contact them to arrange a demo.
About The Real Estate Book-Boston North Shore and Newpoint Media Group, LLC:
Company headquarterers at 2305 Newpoint Parkway, Lawrenceville, GA 30043, The Real Estate Book is the largest real estate industry publisher on the planet thanks to its presence in 300 markets in the US and Canada. The company was recently purchased by a group led by Massachusetts native, Scott Dixon, CEO from NCI Communications, a global publishing concern. 33 years ago, the company started as a print home listing digest, and with its widely recognizable logo shield it is now positioned to leverage its 5.5 million print circulation into online and mobile text markets. This multimedia publishing tool is a turnkey solution for agents and consumers searching for a better North Shore Massachusetts real estate shopping experience. Find the company's website at http://www.RealEstateBook.com. For more information about The Real Estate Book - Boston North Shore, please visit http://www.RealEstateBook.com or call 617-785-9264.