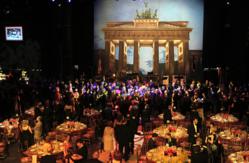 Vienna, VA (PRWEB) September 05, 2012
Wolf Trap Foundation for the Performing Arts announces the 2012 Wolf Trap Ball, the organization's largest annual fundraising event, set to commence Saturday, September 15 on the Filene Center stage at Wolf Trap National Park for the Performing Arts. This year's special event celebrates Terre Jones, Wolf Trap President and CEO, who throughout his tenure has positioned the organization as a premier center for the integration of performing arts, education, technology, and environmental sustainability. Jones will retire in December, following 17 years of service leading the not for profit arts and education organization.
As is tradition, this unique event takes place on the Filene Center stage, one of the largest performance spaces in the country. Spanning more than 27,000 square feet, the performance space will be transformed for the event with extensive custom designed sets and lighting to highlight the unique elements of Wolf Trap, as well as Santa Fe, New Mexico, Jones's beloved retirement destination and second home for several years. Close to 1,000 members of the business, cultural, social, and political community will gather to celebrate Terre and Wolf Trap's renowned education and arts programs.
Notable guests attending include:
The Honorable Norman Y. Mineta, Wolf Trap Foundation Board Emeritus, as well as former Secretary of Transportation under President George W. Bush and former Secretary of Commerce under President Bill Clinton; His Excellency Dr. Dino Patti Djalal of Indonesia; His Excellency Mr. Datuk Othman Hashim of Malaysia; His Excellency Mr. Ashok Kumar Mirpuri of Singapore; His Excellency Mr. Elin Suleymanov of Azerbaijan; Mr. Luca Franchetti Pardo, Minister and Deputy Chief of Mission for the Embassy of Italy; Ms. Emma Crimmings, Director of Cultural Affairs for the Embassy of Australia; Noel Paul Stookey, distinguished member of the iconic folk group Peter, Paul & Mary; and Cathy Rigby, renowned gymnast and actress made famous by her timeless portrayal of Peter Pan.
Wolf Trap extends a warm welcome for distinguished guests to celebrate Jones's 40-plus-year career in the performing arts, and his successful continuance in the legacy of Wolf Trap's founder, Catherine Filene Shouse. A central focus for Jones during his time at Wolf Trap has been his commitment to fostering the creation of innovative new works, resulting in 74 new commissions since joining the Foundation in 1996. Under his leadership the Foundation has achieved record-breaking attendance for performances and the expansion of Wolf Trap Education programs, most recently with the launch of Wolf Trap's Early Childhood STEM Learning Through the Arts program in 2010. Additionally, in 2007 Jones launched the Foundation's "Go Green" program to make Wolf Trap a carbon neutral organization.
The Wolf Trap Ball is co-chaired by Wolf Trap Foundation Board Member Alan J. Kelly, President, ExxonMobil Fuels, Lubricants & Specialties Marketing Company; and Wolf Trap Associates Board Member Boofie O'Gorman of Long & Foster.
"It's a unique honor to co-chair the Wolf Trap Ball and play such an integral role in celebrating the accomplishments, vision, and leadership of Terre Jones," said Kelly. "The annual Wolf Trap Ball is such an anticipatory event for the D.C. metro area community, and we are eternally grateful for the tremendous support from our sponsors and attendees who make it possible for Wolf Trap's critical arts and education programs to thrive year after year."
Honorary Co-Hosts for the Wolf Trap Ball include: Speaker John A. Boehner, Senator Max Baucus, Senator Barbara A. Mikulski, Senator Harry Reid, Senator Patty Murray, Senator Olympia J. Snowe, Senator Pat Roberts, Senator Tim Johnson, Senator Mary Landrieu, Senator Charles E. Schumer, Senator Lisa Murkowski, Senator John Cornyn, Senator Mark Pryor, Senator Richard Burr, Senator Tom Coburn, Senator Benjamin L. Cardin, Senator Bernard Sanders, Senator Roger Wicker, Senator Jeanne Shaheen, Senator Mark Warner, Senator Jim Risch, Senator Jeffrey A. Merkley, Senator Michael F. Bennet, Congressman Frank R. Wolf, Congresswoman Louise M. Slaughter, Congresswoman Rosa L. DeLauro, Congressman James P. Moran, Congressman James E. Clyburn, Congressman Bob Goodlatte, Congressman Mike Simpson, Congressman Todd Platts, Congressman Raúl M. Grijalva, Congressman Chris Van Hollen, Congressman Robert J. Wittman, Congressman Gerald E. Connolly, and Delegate Eleanor Holmes Norton.
Proceeds from the Ball benefit Wolf Trap Foundation's renowned education and arts programs, including the Wolf Trap Institute for Early Learning Through the Arts. Wolf Trap's Institute programs reach tens of thousands of preschool and Kindergarten children, teachers, parents, and caregivers around the country and abroad, using performing arts disciplines such as drama, music, and movement to enhance academic and social skills. Each year, the Wolf Trap Ball attracts a diverse guest list of celebrities, politicians, and business and cultural leaders, generating approximately $1 million in support of these programs.
Major Sponsors include: Exxon Mobil Corporation, The Boeing Company, Booz Allen Hamilton, The Collis Warner Foundation, Boofie and Joe O'Gorman, Walter M. Oliver, The W. Russell and Norma Ramsey Foundation, USAA.
For more details on reserving a seat or table at the Ball, contact Wolf Trap Special Events at (703) 255-4030 or events (at) wolftrap (dot) org.
In addition to the annual Ball, forthcoming major fundraising events benefiting Wolf Trap's mission to bring education through the arts into the community include the 15th Annual Invitational Golf Tournament on October 15, 2012 and Wolf Trap's Run for the Arts 5K and Fun Run in 2013.
About Wolf Trap Foundation for the Performing Arts
Wolf Trap Foundation for the Performing Arts, a 501(c)(3) nonprofit, founded by Catherine Filene Shouse (1896-1994), produces and presents a full range of performance and education programs in the Greater Washington area, as well as nationally and internationally. Wolf Trap features three performance venues, the outdoor Filene Center and Children's Theatre-in-the-Woods, both located at Wolf Trap National Park for the Performing Arts, and The Barns at Wolf Trap, located down the road from the park and adjacent to the Center for Education at Wolf Trap. In partnership with the National Park Service, The 7,028-seat Filene Center annually showcases an extensive list of diverse artists, ranging from pop, country, folk, and blues to classical music, dance, theater, and multimedia presentations, from May through September. The Barns operates year round, and during the summer months is home to the GRAMMY-nominated Wolf Trap Opera Company, one of America's outstanding resident ensemble programs for young opera singers. Wolf Trap's Education Programs include the nationally acclaimed Wolf Trap Institute for Early Learning Through the Arts, Children's Theatre-in-the-Woods, a diverse array of arts education classes, scholarships, and a nationally recognized internship program that was included in Bloomberg BusinessWeek's 2009 List of "Best Places to Intern." As part of its ongoing commitment to protect and preserve the environment, Wolf Trap offers metro access and is a founding member of the Green Music Group. Terrence D. Jones is president and CEO of the Wolf Trap Foundation for the Performing Arts.
[ON-SITE NEWS MEDIA COVERAGE IS ENCOURAGED]
**RSVP required to grahamb (at) wolftrap (dot) org**
Visit http://www.wolftrap.org for more information.
####