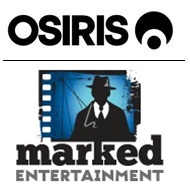 "At a time when advertising media budgets are being fragmented the solution for reaching audiences is to be part of the content they consume."
Carslbad, CA (PRWEB) September 06, 2012
Osiris Shoes, a premier actions sports footwear brand, is proud to announce their new relationship with Marked Entertainment, who will find roles for Osiris products and athletes in film and television.
Marked Entertainment, a team of seasoned advertising agency and brand integration executives, positions itself as a company that offers entertainment marketing solutions for the future of brand marketing. It aims to provide the next innovation in building the Osiris brand. The company's CEO Jake Stango says, "At a time when advertising media budgets are being fragmented the solution for reaching audiences is to be part of the content they consume."
Osiris distributes shoes for specialist and fashion markets all over the world, boasting an impressive roster of sponsored riders in Skate, Surf, BMX, MTB and FMX. It is now setting its sights on a more general market in addition. Tony Chen, President and co-founder of Osiris Shoes says, "Amongst other things we want to continue to develop with our devoted followers who discovered us through the skate scene, while at the same time offering a broader range of shoes and clothing. We need to support those products with a suitable marketing effort." Appearing in mainstream content that is viewed around the world provides that kind of support.
To compete in an arena with shoe brands that are some of the biggest and most famous in the world is a demanding task for a company like Osiris. As Jake Stango, CEO of Marked Entertainment, explains, "The kind of budget you need to make a major brand play is getting harder and harder to find." Marked Entertainment makes the case that the Hollywood product, feature films, as well as mainstream US television, provide ready made influence with truly global reach.
Marked Entertainment, which uses an advertising agency style briefing process to create roles for products that reinforce their place our culture, welcomes Osiris Shoes as another of a series of exciting client wins in the past few months.
----
Osiris Marketing Contacts
Hans Molenkamp
Global Marketing Director
hans(at)osirisshoes(dot)com
Lindsay Soulé
Marketing Coordinator
lindsay(at)osirisshoes(dot)com
-----
About Osiris Shoes
Osiris was created in 1996 by the executive team of Tony Magnusson, Tony Chen, Doug Weston and Brian Reid. The Osiris brand was born out of a need in the market for quality skateboarding footwear that also incorporated lifestyle street elements. The executive team combines over 50 years of footwear, design and product knowledge with over 70 years of combined experience in the action sports industry. This combination of experience has allowed Osiris to be one of the premier action sports footwear brands worldwide for over 15 years.