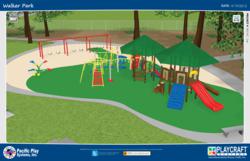 Playground equipment poster by Pacific Play Systems, Inc. for Walker Park 5-12 age group play structure, to be opened this year
Carlsbad, CA (PRWEB) September 06, 2012
The City of San Diego has recently awarded the Walker Park project that is scheduled to go into construction this fall. Several companies competed for the playground equipment portion of this design build project and the proposal offered by Pacific Play Systems received the highest score amongst all of the participants. Pacific Play's winning design features one of Playcraft's new Revolution hybrid composite play structures, complemented by a number of swings and free-standing events. The design proposal received a 99% score and was selected by the City's playground committee for the project.
The new project for the City of San Diego's Walker Park, located off Black Mountain Road, will include the installation of an ADA accessible Playcraft composite play structure, arch swings and ground level components. Site work associated with the project includes removal of the existing playground equipment, sand and some flat works. Additionally, the site will be upgraded for ADA accessibility, including the installation of a new picnic area that will include picnic tables, benches, trash receptacles along with ADA upgrades to the parking areas and sidewalks. To maximize accessibility, the new playground will also offer a poured-in-place rubberized surface allowing wheelchairs access to many of the playground's featured events throughout the entire site, including the swings. The scope of the project will also include a small area for sand play activity.
The new Walker Park playground has been designed to include both traditional and non-traditional play events. From traditional activities such as slides, traverses, and climbers to newer activities such as freeform climbers and tri-pads, the new playground will include a wide range of fun and challenging activities for children of all abilities to enjoy. This 5-12 age group playground has been designed for ADA accessibility providing children with various disabilities equal play opportunity.
The supplier of the playground equipment, Pacific Play Systems, Inc., has completed similar projects throughout California and currently has several similar projects in planning in San Diego, Los Angeles, Riverside and Orange County. The Walker Park project is currently in production and should be completed before the year's end.
About Pacific Play Systems, Inc.
SoCal based Pacific Play Systems, Inc. is one of the leading suppliers of commercial playground equipment on the West Coast. Pacific Play Systems, Inc. specializes in design and installation for commercial indoor and outdoor playground equipment. The company offers its customers a full package that includes everything from initial consultation to design, site work, and complete installation. The company works primarily with schools, preschools, HOAs, churches, military bases, and parks. In addition to being a full-service commercial playground equipment company, Pacific Play Systems, Inc. also offers a wide range of site furnishings, soft-contained indoor playground equipment, shade structures, sports and water park equipment, and surfacing.