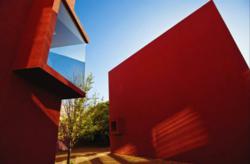 Santa Fe, NM (PRWEB) September 06, 2012
Santa Fe University of Art and Design(SFUAD) and the Santa Fe Art Institute(SFAI), in coordination with Thornburg Investment Management, the Zocalo Condominiums, Lloyd & Associates Architects, Spears Architects, Martinez Architecture Studio and the City of Santa Fe, will present "Ricardo Legorreta and Santa Fe," an event honoring the legacy of the late Mexican architect whose inspired designs have helped shape the landscape of many residential, academic and corporate buildings in Santa Fe.
During the weekend of Oct. 19–20, a series of lectures, films and tours of the major Ricardo Legorreta architecture will take place around the city. The prominent Legorreta buildings in Santa Fe include SFUAD's Visual Arts Center, the SFAI, Thornburg Investment Management, and the Zocalo Condominiums. All structures are representative of Legorreta's signature design aesthetic, which includes geometric shapes, bright colors and plays on light and shadow.
Khristaan Villela, an art historian and professor in SFUAD's Art Department who has written several articles and a book about Legorreta's work, says that SFUAD's architectural identity is largely based on Legorreta's architecture; the colors of the Visual Arts Center are prominent across campus, and the university's logo centers around colorful, geometric shapes of buildings.
The weekend's first event is an exhibition opening at the SFAI, curated by Simón De Agüero, which will feature Legorreta drawings and models from the SFAI and SFUAD buildings. Featured speaker Victor Legorreta will talk candidly about his legendary father, whose most famous designs are the Camino Real Hotel in Mexico City and the IBM factory in Guadalajara, Mexico. Throughout his career, Ricardo Legorreta received several prestigious awards for his design work, including the UIA Gold Medal, the AIA Gold Medal and Japan's Praemium Imperiale. He passed away in late 2011.
Villela will also present during the tribute event, along with Wayne Lloyd, president of Lloyd & Associates Architects. Lloyd has been a major player in the New Mexico architecture scene, winning numerous design awards. His international experience includes collaboration with the firm Legorreta + Legorreta, and he served as one of the architects of record for the SFAI and SFUAD Visual Arts Center.
Ricardo Legorreta and Santa Fe
Friday, Oct. 19
4 p.m. – Exhibition opening (curated by architect Simón De Agüero) and reception for Ricardo Legorreta and Santa Fe (Santa Fe Art Institute)
6 p.m. – Screening of a Legorreta memorial video, "Ricardo Legorreta's Biographical Path," a presentation by Victor Legorreta about his father's work, and a talk by Wayne Lloyd called "Experiencing the Legorreta Design Process" (Tipton Hall on the SFUAD campus)
7:30 p.m. – Dinner (Santa Fe Art Institute)
Saturday, Oct. 20
11 a.m. – Khristaan Villela lecture, "Mexican Modernism: The Architecture of Ricardo Legorreta" (Tipton Hall on the SFUAD campus)
12 p.m. – Guided tour of SFUAD's Visual Arts Center
1–5 p.m. – Self-guided tours of SFAI, SFUAD and Zocalo Condominiums
1:45, 2:30, and 3:15 p.m. – Scheduled, guided tours of the Thornburg Investment Management building
5 p.m. – Closing reception (Zocalo Condominiums)
For more information, please contact Michelle Laflamme-Childs at mchilds (at) sfai (dot) org or 1-505-424-5050.
About the Santa Fe Art Institute:
The Santa Fe Art Institute (SFAI) founded in 1985, is an independent non-profit community-based arts center with international reach that presents and promotes art as a positive social force. SFAI fosters the exploration of contemporary art by enlivening public discourse on art, nurturing artists at all phases of their careers, and encouraging learning via the arts for people of all ages through five key program areas: 1) Ongoing residencies that provide support necessary for visual and new media artists, writers and poetry translators, performance artists and composers to complete work and explore new creative directions; 2) An annual season of lectures and workshops that stimulates discourse around important issues in the arts; 3) Small, focused exhibitions that challenge audience assumptions; 4) Publications; and 5) Community-based arts education and outreach that support creativity and innovation, provide an alternative pathway for learning, and expand the traditional skillset available to people young and old. For more information, visit http://www.sfai.org/index2.html
About Ann and John Marion:
Ann and John Marion were the primary creative force in the selection of Ricardo Legorreta as design architect for SFAI and the SFUAD Visual Arts Center. The dinner at SFAI will honor their vision and their dedication to realizing these important buildings, which have influenced the architectural design in Santa Fe and beyond.
About Santa Fe University of Art and Design:
Santa Fe University of Art and Design is an accredited institution located in Santa Fe, New Mexico, one of the world's leading centers for art and design. The university offers degrees in arts management, contemporary music, creative writing, digital arts, graphic design, moving image arts (filmmaking and video production), performing arts, photography and studio art. Faculty members are practicing artists who teach students in small groups, following a unique interdisciplinary curriculum that combines hands-on experience with core theory and prepares graduates to become well-rounded, creative, problem-solving professionals. As a Laureate International Universities Center of Excellence in Art, Architecture and Design, the university boasts an international student body and opportunities to study abroad, encouraging students to develop a global perspective on the arts. Santa Fe University of Art and Design is accredited by The Higher Learning Commission and a member of the North Central Association, http://www.ncahlc.org.