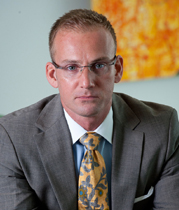 Miami, FL (PRWEB) September 05, 2012
Prominent South Florida criminal defense attorney and former Miami-Dade prosecutor Michael Grieco is the newest member of the elite Haute Living Haute Lawyer Network. An exclusive invitation-only professional network, only the most venerated attorneys make up this successful and sophisticated circle.
Grieco was handpicked for his exceptional skill in both criminal prosecution and defense strategies, and his dedicated representation of white collar professionals, athletes, and Hollywood stars. A JD graduate of the University of Miami School of Law, he has significant trial experience that includes homicides, narcotics offenses, firearms charges, property crimes, white collar offenses, and DUI's. Haute Living Magazine will feature Grieco as an exclusive Haute Lawyer.
About Haute Lawyer
The exclusive Haute Lawyer network serves as every reader's inside connection to the most established and venerated attorneys across the United States. A constantly growing professional network, members join on an invitation-only basis to ensure only the best are represented on the site. Haute Lawyer is also a buzzing source for legal news; the blog aims to educate readers on current events from the most newsworthy corporate showdowns to celebrity suits. Experts in the field pen their own posts on the latest updates, high-profile cases, and exclusive information, bringing value and inimitability to the page. Stay in the know with http://www.hautelawyer.com.
About Michael Grieco
The Grieco Law Center not only provides clients with concierge service for a litany of criminal matters, but also works with corporate counsels for numerous Miami and New York businesses in litigation and transactional matters, as well as municipal ordinance violation defense/prevention. Additionally, Grieco regularly acts as a legal consultant for several professional athletes and a sports management firm and is sought out by media outlets for legal analysis regarding high-profile criminal matters, including the George Zimmerman prosecution and FAMU hazing case.
The Grieco Law Center does not shy away from potentially high profile cases and has represented several notable celebrities, socialites, and NBA and NFL athletes, as well as local night club owners. The firm successfully lowered the media profile of each of these cases. To learn more about Grieco, please visit: http://www.hautelawyer.com/member/michael-c-grieco/