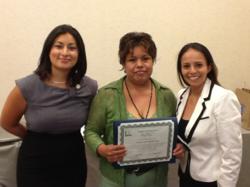 All I can do is recommend that you get educated in the subject of the metabolism and weight loss. Knowledge is power and no one will understand your metabolism and your body better than you. My advice is read!- Consultant Ivonne D.
Dallas, TX (PRWEB) September 06, 2012
An epidemic of obesity is drowning the Latin Community in fat and the cry for help has come all the way from Puerto Rico. Special leaders of the Latin communities of Texas were invited to participate on a course offered in Spanish that detailed the most important factors responsible for the obesity-related health issues in the Latin community, especially for those who reside in the state of Texas.
Certified Metabolism Consultants™ were flown in from Florida and San Juan to train the attendees on subjects that are making Latin peoiple (and everyone else) put on serious weight ; subjects such as the nervous system, constipation, insomnia, and the wrong diet which consultants assure are responsible for the index of obesity reached by most Mexican and Puerto Ricans who reside in the States.
Based on Suarez's book,The Power of Your Metabolism (El Poder del Metabolismo in Spanish), the graduates of the course are now equipped to "Assist others about the Metabolism" and guide them towards an inclination for getting educated about their bodies and how these work. A group of twenty people comprised the graduating class of Dallas including a dentist, a personal trainer, nutritionist, and many who were simply there because they wanted to help their communities in an epidemic that has reached proportions that beg for a change in the way people eat and most importantly what they eat.
"We decided to assist these guys in Dallas because, well, they asked!", stated Ivonne Deane one of the consultants from Florida, "these were people who had read Mr. Suarez's book and wanted more information and most importantly wanted to help someone such as a daughter, a spouse or a friend".
The seminar concluded that afternoon with a certificate ceremony and the presentation of a "Pin for Metabolism Trainees" along with a special membership to a trainee forum.
For more information about how to receive training in Spanish on the metabolism, you can call the Metabolic Academy's offices in Florida at 1-888-348-7352.