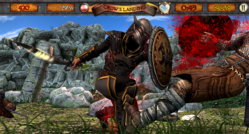 Says Pierre Roux, CEO and Founder of Empty Flask Games, "Infinite Warrior's greatest strength lies in its simplicity. It feels like an improved "infinite runner" experience. If Jetpack JoyRide and 300 had a child, it would be named Infinite Warrior."
Durham, NC (PRWEB) September 06, 2012
Empty Flask Games, a North Carolina-based up and coming Smart Phone app developer, announced today the launch of its newest game, Infinite Warrior. This side-scrolling arcade adventure game breaks new ground with its cinematic high resolution graphics and engrossing—yet simple—immersive gaming experience for novice and old school gamers alike. Infinite Warrior features realistic 3-D graphics, intuitive, entertaining game play with a new twist on power-up bonuses along with endless re-playability.
Graphically, Infinite Warrior presents in full 3D with high resolution environments and characters. Character animations are recorded with Motion Capture performed by fight coordinators and stunt actors lead by Richard Ryan, renowned stunt coordinator whose credits include swordplay and stunt coordination for The Dark Knight, Sherlock Holmes, Troy, and many others. Infinite Warrior also includes rich atmospheric musical orchestration and voice-over narration and cues.
In addition, game play is greatly enhanced by the way the plot unfolds. Instead of old style dodging obstacles by jumping, sliding, strafing, or flying over or under, the player follows on screen clues to enable his Warrior to dispatch enemies and move forward. As the player performs a unique right swiping motion, he is rewarded by a cinematic sequence featuring slow-motion and camera pans simulating actual movie action. The player also has a unique wardrobe to customize his Warrior, with each item offering visual personalization as well as instant gameplay bonus. Armors, swords, helmets and shields can be purchased with hard or soft currency. In-App purchases can also buy revival after a defeat or unlock other locations to enlarge and enhance game-play. At launch, Infinite Warrior offers four richly rendered locations, each with its own "night" version. Additional levels will follow. The game begins in only one location, while three other locations wait to be discovered and accessed during game play.
Says Pierre Roux, CEO and Founder of Empty Flask Games, "Infinite Warrior's greatest strength lies in its simplicity. It feels like an improved "infinite runner" experience. If Jetpack JoyRide and 300 had a child, it would be named Infinite Warrior." Roux, a veteran video game artist and producer, hales from Marseille, France, and has worked at Namco Bandai, Electronic Arts, Quantic Dream, Crystal Dynamic, Eidos Interactive, Vicious Cycle, Ubi Soft, and Cryo Interactive. Roux's strong art background and extensive gaming experience make him uniquely qualified to create an innovative and visually compelling gaming experience with Infinite Warrior. The visual quality of Infinite Warrior is reminiscent of the console game experience, whereas its simplicity makes for a fun, demanding, and engaging game-play challenge.
Infinite Warrior will be available on IOS and Android platforms in September 2012.
For more about the game, visit Empty Flask Games at http://www.emptyflaskgames.com.
Contact: J. Moon at jmoon2442 (at) gmail (dot) com