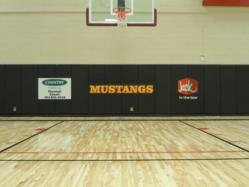 We lost out on 2 bonds already, said Tim Ottmann, Ponderosa Athletic Director
Parker, CO (PRWEB) September 06, 2012
Ponderosa High School in Parker, CO turns 30 years old in 2013, the 2nd oldest high school in Douglas County. Known for a strong athletic and academic legacy, Pondo had, unfortunately, fallen into disrepair. Tim Ottmann, the Athletic Director, had high hopes to re-vamp the gymnasium which houses volleyball, basketball, and wrestling. Bids that included re-finishing the gym floor, painting, and getting new wall padding were astounding and far too great a goal for fundraising.
Tim Ottmann said, "I've lost out on 2 bonds already," which explained his frustration for getting this project done in time for the school's 30th anniversary.
Tim was contacted by Traci and Aaron Tattersall, owners of Sports Image-Denver. Sports Image is a high-school sports marketing company that partners high schools with corporate sponsors to buy much-needed equipment or provide an on-going revenue stream for the school. Nationally, Sports Image has given over $10M in equipment to schools and over $900,000 in revenue. Traci and Aaron created advertising opportunities inside the gymnasium at Ponderosa which included spots on scoreboard panels, floor graphics, and wall padding.
In short order, Sports Image-Denver created and sold all advertising spots to local and regional businesses. This combined effort allowed Sports Image-Denver to buy all new wall padding for the gymnasium (32' on 2 sides of gym) and gift $7000 towards the project. As the advertising terms renew, Ponderosa will receive an on-going revenue stream.
Sponsors included on this project Parker Adventist Hospital, UNC, CDOT, Jack in the Box, Tutor Doctor, Country Financial, The Parker Home Center, Mountain States College Planning, American Family/James Sulhoff, and Parker Orthodontics.