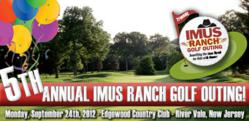 Bergen County, New Jersey (PRWEB) September 07, 2012
77 WABC and Konica Minolta are proud to present the Imus Ranch Golf Outing to benefit The Imus Cattle Ranch for Kids with Cancer in Ribera, New Mexico. The event will be held Monday, September 24th, 2012 at the beautiful, PRIVATE Edgewood Country Club in River Vale, New Jersey!
Come out to celebrate 5 years of the Imus Ranch Golf Outing with us at our new location in Bergen County, New Jersey! We are proud to announce the Edgewood Country Club will be hosting the 5th Annual Imus Ranch Golf Outing! Edgewood Country Club is a PRIVATE club featuring 27 spectacular holes, incredible food and one of the largest outdoor heated pools in the state, plus tennis too.
For more Imus Ranch Golf Outing information, please contact Leslie Slender at 212-613-3848 or email events(at)wabcradio(dot)com.
The Imus Ranch is an authentic working cattle ranch nestled beneath a majestic mesa in the rolling hills near Ribera, New Mexico, fifty miles northeast of Santa Fe.
Founded by Don Imus and Deirdre Imus in 1998, the ranch was conceived and designed with the sole purpose of providing the experience of the great American cowboy to children suffering from cancer or serious blood disorders, and children who've lost brothers and sisters to Sudden Infant Death Syndrome. Our objectives are to encourage in them a sense of achievement, responsibility and self-esteem, and to instill pride and restore their dignity as they become aware of just how much they are able to accomplish. Many have become convinced that because they are sick they are not normal. At The Imus Ranch they quickly discover that they can do anything any other kid can do. Well over 1,000 kids have.