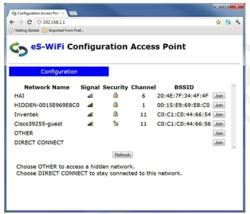 (PRWEB) September 06, 2012
Inventek System's powerful built- in SoftAP function allows customers to easily command the eS-WiFi module to join a selected 802.11 b/g/n network. The module's infrastructure mode AP allows both iOS based products such as smartphones and tablets as well as Android based devices to easily connect to the eS-WiFi Access Point.
Typically for an embedded Wi-Fi application, customers need to provision their device/appliance by connecting it to their Home Area Network (HAN) . The eS-WiFi module can be programmed to automatically power up as an Access Point. Once the Access Point is activated, the module runs a DHCP server and issues IP addresses. The user can then use any smartphone, PC, or tablet to view and connect to the access point, select their HAN and type in the password to join the selected network. After the user selects "Join" the access point is closed and the eS-WiFi module subsequently turns off the AP and joins the network as a client.
The eS-WiFi module can also be configured to remain as an access point and instead be used for setting up peer-to-peer (P2P) networks and it can support up to eight clients simultaneously connected through the SoftAP. The eS-WiFi module allows the clients to transfer and share files as well as connect to a local printer without the need for a fixed (hard) AP connection. The user simple selects "Direct Connect" from the web page that is broadcasted by the eS-WiFi module.
All eS-WiFi 802.11 b/g/n modules have an embedded microcontroller running a fully integrated TCP/IP stack and a simple to use AT command set. The Software enabled Access Point (SoftAP) mode is activated by simply sending an "A0" command to the module through the UART, SPI or USB interface. With this added capability, all Inventek eS-WiFi modules can now be configured as an access point, web server or client through AT Commands issued from any host microcontroller.
The eS-WiFi module hardware includes the Broadcom BCM4319 or BCM43362 IEEE 802.11 Wi-Fi System-on-Chip (SoC) component and STMicroelectronics STM32 F-2 Series 32-bit ARM Cortex M3 microcontroller. This STM32 microcontroller hosts the networking application software including the TCP/IP network stack and Inventek's customized AT Command set firmware.
About Inventek:
Inventek Systems is a privately held, USA-based, full-service wireless solutions provider focused on 802.11 WiFi embedded solutions, GPS embedded modules and antennas. A wide spectrum of standard and custom embedded products are offered ranging from low cost system-in-a-package (SIP) products to modular based custom solutions. Inventek provides a unique set of services from consulting to custom design to cost effective high volume manufacturing.
Inventek Systems products are used in a wide range of consumer, industrial, and defense based applications. Inventek's eS-WiFi and Ez-GPS products are enabling customers around the world to add WiFi connectivity and GPS features at a quickening pace with minimal design effort.