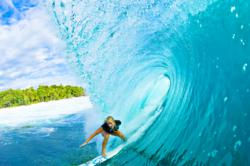 COLORADO SPRINGS, Colo. (PRWEB) September 06, 2012
Bethany Hamilton, professional surfer and inspiration to millions, knows where she plans to be on Sept. 16: in church with friends she has invited to come with her. Like hundreds of thousands of Americans, the 20-year-old native Hawaiian has committed herself to National Back to Church Sunday, the nation's largest outreach ministry to invite people to come back to church.
Hamilton became a beacon of hope and inspiration at age 13 when she continued to follow her dream of professional surfing after she suffered a shark attack that severed her left arm. She credits her perseverance to her life of faith, which she boldly shares, including encouraging others who do not attend church to join her in participating in National Back to Church Sunday.
"Growing up I was blessed to be part of a great church," said Hamilton. "This is where I met many friends who have encouraged me in my life to live strong for Christ."
Known today as the "Soul Surfer," Hamilton's life of faith began early. "I gave my heart to Jesus when I was five years old, and my relationship with Him is everything to me."
Her life of surfing also began early. Born into a family of surfers on the island of Kauai, Hawaii, she entered her first surfing competition at the age of eight. When a shark attack severed her arm, she recovered with a remarkably positive attitude that has now influenced people worldwide. Lifeguards and doctors believed her strong water sense and faith in God helped her survive the traumatic ordeal.
Hamilton credits her foundation of faith as her "backbone" and recognizes the need to nurture that strength through her home church.
"My church is a place where I can develop friendships with others that will encourage me in my walk with Christ," she said. "I hope you can find a church too. National Back to Church Sunday is a great time to start looking for a church that suits you."
More than 11,000 churches across America are participating in National Back to Church Sunday (backtochurch.com/roster). The outreach event equips congregations to invite their friends, family, neighbors, and coworkers to come back to church. Research has shown that 82 percent of unchurched people are likely to accept a personal invitation to attend church.
Congregations are gearing up to open their doors to more than one million people anticipated to accept these invitations on Sept. 16. Resources for invitations (http://www.backtochurch.com) include the "Pastor Rap" video (backtochurch.com/videos) that has gone viral on YouTube, social media, such as a Facebook page (facebook.com/backtochurch) and E-vites, and the Back to Church roster (backtochurch.com/roster), where churches can find one another to collaborate and people can search for a welcoming church in their communities.
To those who have been inspired by her faith and determination in the face of seemingly insurmountable odds, Hamilton issues a challenge: "I encourage you to take a walk of faith and visit a church on National Back to Church Sunday."
National Back to Church Sunday (http://www.backtochurch.com) is the single largest annual community outreach in the nation, sharing the simple message and mission of inviting everyone in America back to church. The campaign empowers churches and church members with the tools they need to welcome their neighbors, friends and loved ones back to church, while providing the unchurched an easy way to find a welcoming church in their community.
Bethany Hamilton (hbethanyhamilton.com) is a professional surfer, Christian, author, philanthropist and healthy lifestyle advocate. After losing her left arm in a shark attack at age 13, she recovered with a remarkably positive attitude and returned to surfing. Just four years later, she achieved her dream of becoming a professional surfer. In 2004 her autobiography, Soul Surfer, was released. Seven years later, the book was made into a major motion picture bearing the same title. Her story of faith, determination and hope continues to be a source of inspiration to millions.
To schedule an interview on National Back to Church Sunday, contact Ty Mays at 770-256-8710 or tmays(at)inchristcommunications(dot)com.
NOTE: Reporters interested in local angle for National Back to Church Sunday can find participating churches in their communities at backtochurch.com/roster.