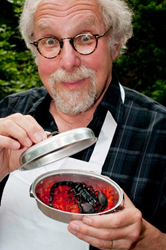 "You'll laugh out loud, squirm uncomfortably and lick your chops while taking this deliciously creepy culinary tour."
Seattle, WA (PRWEB) September 05, 2012
Do Seattle residents have an adventuresome palate, or just enough curiosity to be intrigued instead of "bugged" by a meal featuring gourmet-preparations of insects? Café Racer is presenting its second-annual Bug Banquet, featuring the recipes of "Bug Chef" David George Gordon, this Friday, Sept. 7, from 7-9 p.m. The event has doubled in size due to popular demand, as last year's Bug Banquet sold out. Tickets are available exclusively through http://www.brownpapertickets.com, where ticket-buyers have an opportunity to make a donation to the Café Racer Love fund in addition to their ticket purchase, a new fundraising feature offered by the Seattle-based ticketing giant.
Dubbed the "Feast of Saint Gratus," patron saint of entomophobia (insect fear), the gastronomical gala will feature an assortment of insect-based dishes, including Cambodian cricket canapes, mealworm pizza, waxworm flan and grasshopper chocolate fondue.
The author of the critically acclaimed The Eat-a-Bug Cookbook (c. Ten Speed Press), David George Gordon, has spent the past decade giving cooking demos at locales that include the Smithsonian Institution, Ripley's Believe It or Not! Times Square, Yale University, Seattle's Burke Museum and Singapore's Food Festival. "You'll laugh out loud, squirm uncomfortably and lick your chops while taking this deliciously creepy culinary tour," enthused one reviewer for Amazon.com, describing Gordon's Eat-a-Bug Cookbook. His first annual Bug Banquet, also featuring recipes from the "Eat-a-Bug Cookbook and held at Café Racer, sold-out with more than 50 diners in attendance, prompting a new "tapas" format with room for 100 tasters with an adventuresome palate at this year's event.
"Last year's Bug Banquet proved that there's an outrageously receptive audience for this kind of fare in Seattle," says Gordon. "I'm delighted that this year we are not just selling tickets to the banquet, but with Brown Paper Tickets, we are able to accept fee-free donations to the Café Racer Love fund."
The "add a donation" feature enables event producers to accept fee-free donations in addition to the ticket purchase. "Many ticket buyers attend events because they want to support the producer or the cause behind the event, " said William S. Jordan, president of Brown Paper Tickets. "With this new feature, ticket buyers will be offered the chance to donate, if they care to do so."
In addition to its special bug-based menu, the Bug Banquet will feature the mounted insect collection of entomologist Don Ehlen, proprietor of The Insect Safari, an independent education program based in Seattle. Seattle-based Operadisiac will provide live music. Seattle's Brown Paper Tickets will also unveil artwork for two "Café Racer Artist" tickets, a new 100,000-ticket fundraiser that will allow ticket-buyers to choose to purchase a ticket adorned with a limited edition artwork in exchange for a 25-cent donation to Café Racer Love, a fund dedicated to the families of the victims of the shootings at Café Racer in May. The Café Racer Artist tickets will be available in October.
Tickets for the Bug Banquet are $25 and can be purchased through Brown Paper Tickets, online at http://saintgratus.brownpapertickets.com. Fee-free donations can also be made from this link to Café Racer Love, a fund benefitting the families of the victims of the Seattle shootings on May 30 at Café Racer and on Seneca St.
About The Bug Chef, David George Gordon: (http:http://www.DavidGeorgeGordon.com) Local naturalist-turned-bug-chef -and author of the "Eat-a-Bug Cookbook," David George Gordon is the award-wining author of 19 books on topics that range from watching gray whales and bald eagles to appreciating cockroaches, coral reef fishes and geoduck clams.
About Café Racer Love: (http://CafeRacerLove.org) A fund dedicated to benefitting the families of those who were shot in Seattle on May 30.
About Brown Paper Tickets: Brown Paper Tickets (http://www.BrownPaperTickets.com) is the world's only fair-trade ticketing company, designed to help anyone to easily produce and attend events. The company embraces a code of ethics that honors producers, communities, consumers, and the environment, and a business model rooted in people-to-people connections, justice, and sustainability. Take less. Give more. Be a good neighbor. Brown Paper Tickets offers 100% free ticketing to event producers, a low, affordable fee for ticket buyers, a 24-hour customer hotline, free event planning and promotion assistance and donation of a portion of all profits to charity. Brown Paper Tickets has become a model for Not-Just-For-Profit sustainable business that cares about people over profit, works smart, gives back, positively influences our communities, and hopes to inspire other businesses to do the same.
NOTE TO MEDIA: The "Bug Chef" is available for in-studio "Gourmet Bug Tastings" and in-studio interviews. If you would like to interview anyone associated with this story, or send a photographer to this event, contact Barb Morgen at 206.898.8411