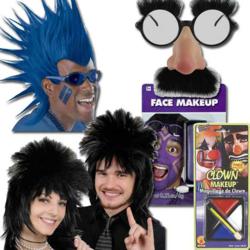 We are delighted we can offer this great selection of costume accessories.
Tacoma, WA (PRWEB) September 07, 2012
For fourteen years, Partywedding.com has provided on-line customers with the popular theme party supplies, as well as the unique and creative. Now, in time for Halloween, they have dramatically expanded their offering of costume accessories. These include a huge selection of wigs in many colors and styles, makeup for all kinds of characters, hats, eyewear and flamboyant jewelry. This is in addition to an extensive array of Halloween party supplies and decorations with skeletons, ghosts, witches and jack-o-lanterns in jointed cutouts, room and scene setters. Whether going for creepy or silly, there are items for anyone's party needs. Life size cardboard cutouts of horror movie characters like Freddy Krueger and Jason add another dimension to scary décor. Latex and mylar balloons feature black cats, bats, skulls and spiders. The many tableware patterns include Spooky Spiders and Chills and Thrills as well as Cloaks and Bats which features a fun blue-faced vampire. Shop for value packs in classic designs of Gothic Greeting and Spooktacular, and additional Halloween decorations.
Before Halloween the expanded Costume Accessories offers customers additional fun Oktoberfest supplies including beer mug and clucker hats, beer mug glasses and necklaces. Decorations include classic German designs for a nice touch with white and blue diamonds, gentlemen in lederhosen and women in dirndls bringing images of Munich to mind. The Alpine hats are always fun additions as costume, favors and decorations. Banners, cutouts, string décor and pennants add to the festive air. Plus, find fun beer party supplies from steins to balloons, favors to beer pong supplies for a rousing celebration.
To add the seasonal touch, fall decorations complement your Halloween décor and also perfect for decorating classrooms. Enjoy fresh and elegant patterns for tableware including Autumn Glory, Autumn Awe, Art and Harvest Basket. Cutouts and scene setters for wall coverings feature colorful trees in classic fall shades for beautiful ways to transform classrooms and other party spaces. Leaf shaped confetti in paper and felt add that special touch to table decorations. Also, garlands, paper lanterns and other hanging decorations highlight classic images of leaves in beautiful autumn hues.
Corby Howell, Party World's Partywedding.com website manager states, "We are delighted we can offer this great selection of costume accessories that can often be difficult to find. Halloween is such a fun time of year and we hope we can supply our customers with all they need for their party supplies. Customer service is always our priority and we will do whatever we can to help". Call for assistance with ordering and for party ideas at 1-800-933-3948.