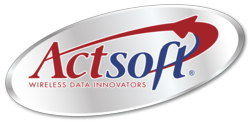 Business owners can now view a configured dashboard, designed for at-a-glance monitoring of key performance factors.
Tampa, FL (PRWEB) September 05, 2012
Actsoft, Inc. a leading provider of wireless data collection and mobile resource management (MRM) software announced today the launch of a specialized reporting feature that helps to make its industry-leading Advanced Wireless Forms even more comprehensive. Advanced Wireless Forms allows mobile businesses to build a digital, wireless version of paper forms which speeds efficiency and transmits data instantly from the field to the office, saving time, money and resources. Foolproof features including drop-down lists, barcode scanning and signature capture ensure accuracy and take the guesswork out of filling out forms.
The addition of reporting tools allows business owners, and their employees, to view key performance indicators on a specialized dashboard, transforming complex data into easy to read graphs. Custom charts bring raw data to life with a visual representation of information that mobile workers have submitted in the field. Now, with the ability to streamline charts tailored to their industry, business owners can track trends, gain direct insight into customer behavior, and make future business decisions based on metrics rather than probability.
"One of the great benefits of business intelligence software is that it allows companies to gain visibility into their daily operations, giving them the ability to turn this knowledge into additional profit. Users of Actsoft's Advanced Wireless Forms have this vital data immediately available to them, rather than spending hours reading through volumes of printed reports," said Trent Cherin, Actsoft Vice President of Technology.
About Actsoft, Inc.
Actsoft, Inc. is a leading developer of GPS based mobile applications for today's businesses with workers on the go. Their products include Comet EZ, Comet Tracker, Comet Mobile Worker, Advanced Wireless Forms, and DashTrac. Actsoft provides enterprise based solutions through all major wireless carriers to thousands of companies in the United States, Canada, and many locations around the world. Founded in 1996, Actsoft, Inc. is headquartered in Tampa, Florida. Actsoft was the recipient of Frost & Sullivan 2009 Customer Service Excellence Award and most recently voted one of Tampa Bay's Top Workplaces. For more information, visit http://www.actsoft.com.