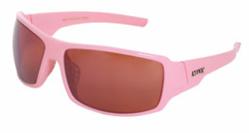 (PRWEB) September 10, 2012
MAXX HD® Sunglasses is pleased to announce they are joining the fight to end breast cancer forever, through sales of their line of pink High-Definition sunglasses. Show your support and make a connection to this great cause by purchasing a pair of their pink high definition sunglasses during the MAXX HD® 2012 SHADES OF PINK promotion.
As part of the MAXX HD® 2012 SHADES OF PINK sales promotion, MAXX HD® Sunglasses will donate to Susan G. Komen for the Cure® $5.00 in connection with each pair of MAXX HD® Pink Shades sold. The SHADES OF PINK promotion, offered for a limited time only, will include the Maxx HD® Pink Designer Shades, Pink MAXX 4 and Pink Storm sunglasses. The offer will be available from September 10, 2012 through the end of Breast Cancer Awareness month in Oct. 2012.
"Our pink shades are not only stylish and affordable, but they make it easy for customers to draw attention to breast cancer, by increasing awareness and raising funds for critical research", stated Chana Kolman, MAXX HD® Public Relations Director. "The MAXX HD® 2012 SHADES OF PINK promotion fosters favorable impressions and the amazing HD lens keeps our patrons coming back year after year".
As the world's boldest and most aggressive breast cancer community, Susan G. Komen® has invested almost $2 billion to fueling the best science and making the biggest impact in the fight against breast cancer. To make a donation or learn more about Komen, visit http://www.komen.org.
To be a part of the MAXX HD® 2012 SHADES OF PINK promotion or to view the complete line of MAXX HD® pink shades please visit the MAXX HD® Sunglasses website at http://www.maxxsunglasses.com/pink. Please use the CODE: PINK at checkout to insure your donation.