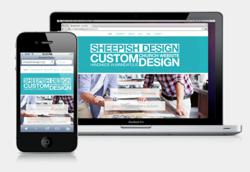 When you build with purpose you create more than a website.
Minneapolis, Minnesota (PRWEB) September 06, 2012
Custom website design has become essential for churches to stand out in a saturated market of template options. In response to this Sheepish Design is proud to announce the launch of their new website, sheepishdesign.org.
Founded in 2009, this Minneapolis based team began with one man's passion for designing custom church websites through creativity, long-term relationships, and missions-centered designs. Now, as a full website design team, they have further defined that passion as creating a unified voice for their clients through digital media and online strategies. Specializing on custom websites, mobile sites using responsive design, online videos, and social media branding, Sheepish Design is impacting the online Church one design at a time; one ministry at a time.
With the advancement of modern technology, the addition of simple website templates, the accessibility of freelance designers, and the availability of "do it yourself" tutorials, the design industry has become flooded with many options; many good options. Taking words from Seth Godin in his book, "Purple Cow," Sheepish Design stands by the reality that "very good is bad." With this mindset, they are committed to providing handmade, exceptional, and unmatched custom church websites.
Embracing the advancement of the design industry, its trends, and the overall atmosphere of creativity, Sheepish Design is proud to offer exceptional custom designs through a process and experience that is unparalleled by their competitors.
Sheepish Design is dedicated to redesigning the face of the online church, because when you build with purpose, you create more than a website.