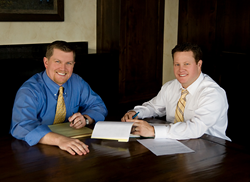 It is a person's own car insurance that will cover injuries suffered in a hit-and-run accident, even if the victim was not driving a car at the time of the accident.
Salt Lake City, UT (PRWEB) September 06, 2012
The attorneys at Christensen & Hymas recently recovered $8,500.00 in a hit-and-run cycling accident that occurred in downtown Salt Lake City, Utah. The woman riding the bicycle was commuting to work—as she often did—when another woman in a car turned left and struck her, knocking her off the bicycle, this according to the police report. The victim sustained multiple injuries to her head, neck, and back. The woman in the car ran over the bicycle, looked at the woman she had just hit, and fled the scene.
The woman in the car was later caught by police after an investigation, with the help of witnesses. According to the police report, the woman was cited for hit-and-run, speeding, DUI, and driving with an alcohol related restricted drivers license. She was arrested and booked into the Salt Lake County Jail. She was uncooperative, combative, and required the escort of two officers to the jail.
Fortunately for the cyclist, the injuries suffered were not severe, but she was injured nonetheless. In a letter from Ken Christensen, of Christensen & Hymas, to Progressive Insurance, Ken states that the cyclist's injuries caused her to refrain from riding her bicycle to work. Her recreational activities were greatly reduced. She was unable to function at a normal activity level during a family reunion. Her life had indeed had been altered by her injuries.
Hit-and-run accidents occur too frequently. According to the National Highway Traffic Safety Administration (NHTSA), one out of every ten vehicle crashes is a hit-and-run. The sobering fact to bicycle vs. vehicle hit-and-run accidents is they are deadly. Cyclists do not have the protective metal shell encapsulating them like motorists do. In fact, the American Automobile Association (AAA) found that between 1994 and 2003, a total of 14,914 people were killed in hit-and-run accidents in the United States.
Because the consequences of hit-and-run accidents can be so severe, and because the victims are often left with mounting medical bills due to the frequent inability to apprehend culprits, Ken Christensen suggests buying the best automobile insurance you can afford. "It is a person's own car insurance that will cover injuries suffered in a hit-and-run accident, even if the victim was not driving a car at the time of the accident." The type of insurance suggested is uninsured motorist coverage (UM). It is UM insurance coverage that will protect a victim if the at-fault party cannot be found after a hit-and-run.
The cyclist in the story above was fortunate to have the at-fault party apprehended and that her injuries were not too severe. If on the other hand, the at-fault party had not been found, and her injuries had been severe, the medical bills associated would have fallen squarely on her shoulders to pay. This would be a tragedy, but the truth nonetheless. Don't allow yourself to be caught unprotected: buy UM insurance coverage you can afford.
About: Christensen & Hymas, Utah Personal Injury Lawyer
The personal injury attorneys at Christensen & Hymas represent clients who have been injured in car accidents, Utah bicycle accidents, dog bites, or a client who has lost a loved one in a fatal accident in Utah. They have won cases amounting to millions of dollars, which have ultimately enabled those who have been injured to better deal with the effects of personal tragedy that accompanies wrongful injuries. They have also written multiple free accident books, covering in great detail how to handle a personal injury and the repercussions therefrom.
For a free consultation with a Utah personal injury attorney, call Christensen & Hymas today at (801) 506-0800 or visit their website at http://www.utahpersonalinjurylawfirm.com/. .
Christensen & Hymas, Personal Injury Law:
Main Office -- 11693 S. 700 E. Ste. 100, Draper, UT 84020 -- (801) 506-0800 -- Fax: (801) 506-0801
Utah County Office -- 584 S State Street, Orem, UT 84058 -- (801) 224-2999
Davis County Office -- 503 West 2600 South #200, Bountiful, UT 84010 -- (801) 294-9500