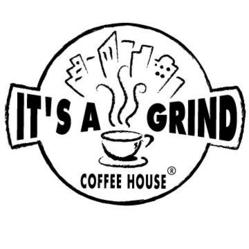 A great way ti kick off the new school year.
Irvine, CA (PRWEB) September 06, 2012
At each It's A Grind Coffee Shop's Back To School Party, a professional barista will provide free samples of the new "Cookie Gnar Gnar" to guests from 2-7 PM on Friday, September 7th.
It's A Grind Coffee House is introducing their newest beverage The Cookie Gnar Gnar at their 46 coffee houses nationwide as a way to alleviate the stress that comes with the start of a new school year. Each party will give It's A Grind's guest's a "hall pass" from studying to visit their local It's A Grind Coffee House after their first week of being back to school or work.
In addition to its authentic barista-crafted espresso beverages, the nationally recognized coffee house offers a unique selection of "better for you" health and well-being smoothies. It's A Grind differentiates itself with an innovative all day-part food range including savory pies, paninis and "home-baked" coffee related cakes, pastries and mini loaves. To learn more about how to get your free Cookie Gnar Gnar samples, please visit http://www.facebook.com/itsagrind
About It's A Grind Coffee House
It's A Grind Coffee House, born in the USA is a specialty coffee house that has been serving neighborhoods since 1995 providing high quality gourmet coffee, espresso beverages, "better for you" healthy cold drinks and a range of home baked foods in a comfortable, community-focused neighborhood environment. It's A Grind Coffee Houses are independent, well connected and free spirited.
For further information about It's A Grind Coffee House visit: http://www.facebook.com/itsagrind