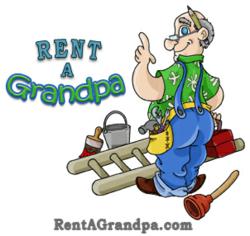 RentAGrandpa.com is just what I needed to find a dependable home repair contractor that I could trust - Jill S.
Los Angeles, CA (PRWEB) September 07, 2012
Ever have a plumber show up late, smelling like they just returned from battle, only to give an estimate that turned out to be way off base? It's frustrating and it is not the way business should be done.
Todd Pliss, the founder/CEO, is the entrepreneur behind RentAGrandma.com, which offers families quality mature child care and other domestic services. Todd explains, "RentAGrandma.com clients would often inquire as to whether we had Grandpas available too. So, that was the next logical step. And, what are "grandpas" usually good at? Fix-it up type of work."
Why the need? With 73 million homeowners and 254,212,610 vehicle owners (as of 2009) in the United States, the demand is tremendous for receiving quality repairs and maintenance. While our "Grandpas" aren't necessarily seniors, each Grandpa is a service provider who is an experienced handyman. Clients can search for Grandpas by zip code or type of service provider required.
Every Grandpa is a professional, experienced handyman. Clients can search the website by zip code or type of service provider needed (carpenter, plumber, auto repair, lawn care, etc.). RentAGrandpa.com features a unique feedback forum so clients can rest assured that when a customer is satisfied, the RentAGrandpa community will know. Members share their experiences with each other so that they can choose the service company that's right for their job the first time around.
It's easy for "Grandpas" to register. They simply need to visit http://www.rentagrandpa.com, click on register a grandpa account, and post their picture and information/resume. Best of all, there is never a charge for grandpas.
Who needs Angie when there's Grandpa?
Contact information:
Todd Pliss
(818) 880-4292
President/CEO
rentagrandpaservices(at)hotmail(dot)com