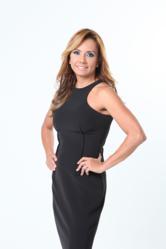 The Cenegenics approach inspired me as a patient. As a physician, working with Cenegenics and launching Cenegenics Puerto Rico are like seeing my dream come true. Practicing age management medicine is what physicians envision healthcare should look like.
Las Vegas, NV (PRWEB) September 06, 2012
Cenegenics Puerto Rico opens its doors this month to the Caribbean, Central and South America, offering Latin America a renowned "next generation" medical approach for optimized health and a new definition of aging, announced Cenegenics® Medical Institute, the global leader in age management medicine. Located in San Juan, the new center is Cenegenics' first practice outside the contiguous U.S. Physician partner Dr. Claudia Villate—board-certified in internal medicine and an eight-year Cenegenics physician affiliate—oversees Cenegenics Puerto Rico.
Reportedly, 13 out of every 100 Puerto Ricans are diabetic. But things are gradually changing. Puerto Ricans are working hard to shed their stereotypical high incidence of diabetes, heart disease and obesity by embracing a healthier lifestyle of fitness and better nutrition. And that's where Cenegenics enters the picture. Recognized as the leading authority in age management medicine, Cenegenics believes its proactive healthy aging program—grounded in solid science with superior patient care, evidence-based protocols and a renewed physician-patient relationship—can help them turn the tide and take control of their future health.
"As a physician, working with Cenegenics and launching Cenegenics Puerto Rico are like seeing my dream come. Practicing age management medicine is what physicians envision healthcare should look like. At Cenegenics Puerto Rico, we are proud to offer so many advanced medical programs to help patients enter a new level of preventive health, such as our Heart Disease & Stroke Prevention program, Cardiac Stem Cell Therapy program, Telomere program and Optimized Health corporate wellness program," Villate said.
Since opening her Cenegenics physician affiliate practice back in 2004, Villate has grown a large patient base from not only Puerto Rico patients, but also Central and South America as well as the States. The fact that her practice is built on 90% referrals and over 12% of her patients in Puerto Rico are physicians is a testament to her uncompromising dedication to medical excellence and the Cenegenics program—a commitment bore out of her own transformational health story as a Cenegenics patient.
"When I went to Cenegenics as a patient in 2004, I literally experienced a 180-degree change in my health. The aftermath of gestational diabetes—battling on again/off again weight, stubborn body fat and plummeting energy levels—left me frustrated with no satisfying solutions from my conventional medicine colleagues. The Cenegenics approach inspired me, as a patient and a physician. Within four months, I had reached my initial health goals, dropped my body fat from 37% to 18% and corrected the metabolic abnormalities on my labs. I knew then that practicing age management medicine was exactly what I wanted to do," Villate said.
Cenegenics Puerto Rico overlooks the ocean, reflecting an organic décor. The center offers a full-time nutrition/exercise counselor, VIP room, physician offices and diagnostic rooms, designated for Cenegenics' "gold standard" exercise assessments to test five major fitness components—including the sophisticated VO2 max to evaluate oxygen consumption/cardio pulmonary efficiency.
Cenegenics Puerto Rico is located at 954 Ponce de León Ave., Miramar Plaza, Suite 701 in San Juan. You may reach the center by calling 787.722.6030.
Physicians can discover the rewarding benefits of practicing age management medicine and Cenegenics physician training/certification program by contacting Dr. Michael Resnick (702.953.1574) or Dr. Tim Patel (702.953.1577).
Visit Cenegenics' Facebook Fan page, follow them on Twitter and get patient celebrity blogs, health tips and news on their portal site, CenegenicsPost.
For more information about Cenegenics, please visit them online, where you can register for quick access to the free online Cenegenics Healthy Aging Kit: informative Guide to Healthy Aging, Executive Summary and media excerpts.
To schedule an interview, please contact Ann Castro, Cenegenics Director of Media Relations: 702.953.1588.
About Claudia Villate, MD
Physician Partner, Cenegenics Puerto Rico
Dr. Claudia Villate is board certified in internal medicine, trained/certified in age management medicine via the Cenegenics Education and Research Foundation (CERF) and a member of the American College of Physicians. Dr. Villate completed her medical degree in 1989 at the University Juan N. Corpas in Colombia. Prior to graduating from medical school, she transferred to Albert Einstein Medical School in New York, where she completed clinical clerkship training requirements for her medical degree. She also completed a research fellowship at the Clinical Pathology Department (Massachusetts Hospital/Harvard Medical School) and an internship/residency in internal medicine at George Washington University (Washington, DC), where she was named Chief Resident in the Department of Internal Medicine. Throughout her career, she served as staff physician at Auxilo Mutuo Hospital and Pavia Hospital, was an associate professor of internal medicine at the VA Medical School (Puerto Rico) and worked as chairperson of quality performance at the VA Hospital. In 2004, she joined Cenegenics, the global leader in age management medicine, and became a full-time Cenegenics physician affiliate, followed by a physician partnership in 2012, overseeing Cenegenics Puerto Rico, Cenegenics' first practice outside the contiguous U.S.
About Cenegenics
Cenegenics® Medical Institute has forged a paradigm shift in medicine, developing a proactive medical approach for optimized health hailed as "next generation medicine" and garnering worldwide media attention. Cenegenics has 22 centers with others opening in the near future: Las Vegas, Nevada (headquarters/2 centers); Charleston, SC; Boca Raton, Florida; Dallas, Texas; Arlington, Texas; Atlanta, Georgia; Chicago, Illinois; Beverly Hills, California; Philadelphia, Pennsylvania; Washington, DC; New York City, NY; Tulsa, OK; Jacksonville, FL; Atlantic City, NJ; Houston, TX; Denver, CO; Scottsdale, AZ; Boston, MA; Miami,FL; Charlotte, NC; San Juan, Puerto Rico. Cenegenics serves over 20,000 patients globally—2,000 are physicians and their families.
###