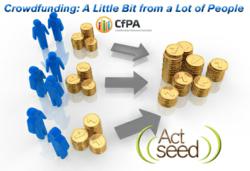 "The passage of the JOBS Act and legalization of equity based crowdfunding is a very exciting proposition. Unfortunately, what many entrepreneurs don't realize is that equity-based crowdfunding is more complicated than donation-based campaigns." Ruth
Orlando, FL (PRWEB) September 06, 2012
ActSeed has teamed up with Crowdfund Bootcamp and the Crowdfunding Professional Association (CfPA) to help entrepreneurs understand the complexities of pursuing equity investment through the JOBS Act Crowdfunding process.
On April 5, 2012, the "Jumpstart Our Business Startups Act" or "JOBS Act" became law. A new game in the world of early stage business funding was created. This legislation now calls for the US Securities and Exchange Commission to define the rules of this new game. It's expected that the rules will be in place sometime next year and entrepreneurs can begin pursuing crowdfunding equity investments.
"The passage of the JOBS Act and the legalization of debt and equity based crowdfunding is a very exciting proposition," said Ruth Hedges, Founding Board Member and Executive Committee Member of the Crowdfunding Professional Association (CfPA). "The community can now open their arms and wallets to give startups the funds needed to thrive and investors a chance to profit. Unfortunately, what many entrepreneurs don't realize is that equity-based crowdfunding is more complicated than donation-based campaigns. It is not as simple as setting up a deal room on Kickstarter and emailing your network."
"The early bird gets the worm and the second mouse gets the cheese, but nobody has a saying for the ones who arrive beyond that," said Bill Attinger, CEO of ActSeed. "Equity-based crowdfunding is coming soon, and entrepreneurs who want to tap this new capital market will start preparing now."
About the Crowdfunding Professional Association (CfPA)
The Crowdfunding Professional Association (CfPA) is dedicated to facilitating a vibrant, credible and growing crowdfunding community. CfPA brings together the many voices behind this historic breakthrough in capital creation. CfPA represents a highly organized team of professionals who not only comprehend the issues and opportunities related to securing funding, but also understand how to best protect entrepreneurs and investors. A commitment to the highest ethical standards will enable crowdfunding to expand and continue to thrive into a robust industry.
About Crowdfunding Bootcamp
The Crowdfunding Bootcamp is a conference held October 9-11, 2012 in Henderson, Nevada. The conference gives entrepreneurs a roadmap to raising capital within the new laws using crowdfund investing, with speakers and experts signed on to work one-on-one with the attendees to make sure when they leave this event they will have the tools and knowledge they need to launch a successful crowdfunding campaign.
About ActSeed
ActSeed is a national online community for startups, early stage companies and small businesses. Since 2009, ActSeed has been helping thousands of entrepreneurs create jobs and build young companies by providing an easy-to-use "business blueprint" and connecting them to investors and business services that are critical for survival and growth. To learn more, please visit http://www.actseed.com.
If you would like more information about this topic or to arrange an interview with Bill Attinger, please send an email to media@actseed.com.