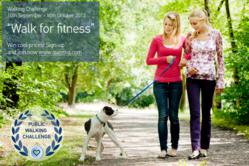 Keep in mind that walking every day keeps the doctor away :-)
Worldwide (PRWEB) September 07, 2012
Walk for Fitness – Public Challenge
The 10th September 2012 QUENTIQ will launch a new public challenge for all walking enthusiasts called "Walk for Fitness". The challenge will run until 10th October 2012.
This public challenge is open to all existing QUENTIQ.com users as well as for all new users. The ranking will be done based on the most walked distance.
Challenge prizes:
1st place will receive a portable digital Go Pro HD Hero2 Outdoor Edition Sport camera and a North Face Base Camp Duffel Bag (size L).
The 2nd place prize will be a GPS-enabled Garmin Forerunner 210 Sports Watch.
3rd place receives a sports bag from Deuter.
QUENTIQ will also give a special prize for the participant who tracks the most original route, or who is in a unique environment. The athlete has to send their recording via email to lucia.thalmann @ quentiq.com. QUENTIQ will then select the most impressive route and award the athlete with a body scale by Withings and a Run/Gym pack for your smartphone.
How does it work?
All you need to participate is a smartphone to record the walking distances on the QUENTIQ Tracker App. Only distances tracked with the QUENTIQ Tracker App in the discipline "walking" are eligible. The app can be downloaded for free on iPhone, Android and Blackberry from their respective app stores. Then login to your account directly on http://www.quentiq.com and visit the Challenge page to compete in the Challenge.
What are you waiting for?
Sign up for the challenge here!
http://www.quentiq.com