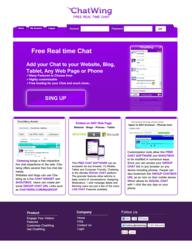 San Diego, CA (PRWEB) September 09, 2012
Blogging about finance and all of its aspects is considered as one of the most famous niches in Blogspot today. Finance bloggers tend to discuss various things such as personal savings, bank strategies, paper assets, foreign exchange, and importance of investment. Realizing that these topics will continue to prosper, the Chatwing Development Team has introduced a blogging chat box for Blogspot finance bloggers. The Chatwing chat app is capable of enhanced communication at any point of time. Additionally, the Chatwing app also ensures a significant increase in blog visibility.
The Chatwing chatbox is innovative in the sense that it can be used for different kinds of online purposes. Blog marketers have started using the Chatwing chat app because of its potential in finding new people. People who are looking for timely information have also used the Chatwing application to suit their needs. Blogspot financial bloggers can also rely on the Chatwing shoutbox when it comes to social media interaction. Visitors are free to log in with their Facebook or Twitter accounts, and the Chatwing team is planning to add more login options in the future.
Chatwing users can edit the appearance of the free shout box according to their preferences. The default shoutbox color is blue, but users can select other colors by dragging the color slider. The size can also be edited in the same manner, and users can even select their own titles. This level of customization has benefited thousands of bloggers from different communities.
To keep user satisfaction at a high level, the Chatwing team intends to create more developments. Aside from Blogspot's finance blogging niche, the team will also expand to other important niches as well such as sports, home, lifestyle, fashion, gaming, and many more. The team also relays more information about the free chatbox in their Facebook page and series of blogs.
About Chatwing.com
Chatwing.com specializes in the new field of website chat. Over years, the Chatwing team has introduced live chat widget for hundreds and thousands of blogs. The Chatwing application bridges people from many parts of the world, creating global synergy through the Internet. The shout box can be installed in just seconds, and it can be used for varying purposes such as leisure and Internet marketing. It also allows a user to customize the size, color, and name of the widget. Chatwing is 100% free for everyone.