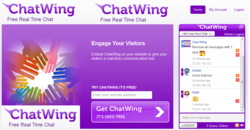 Portland, OR (PRWEB) September 10, 2012
Chatwing Development Team has just launched a website chat box that can help Blogspot bloggers strengthen their communication potential. Additionally, the Chatwing chat app is loaded with simple yet effective features such as social media integration, unlimited chat box creation, and easy installation mechanism.
Chatwing's free chat box is good for bloggers because of the accessibility that it can offer. Visitors of the Chatwing chatroom can log in with their social media accounts, or they can choose the Guest option. As Guests, they can choose avatars from Chatwing's wide collection. Emoticons can also be used for an improved chatting experience. As visitors continue to visit the Chatwing chatroom, the visibility of the Blogspot blog will definitely improve. According to the research done by the Chatwing team, the average visibility spike created by the chatbox is around 40-80%, depending on the content of the blog.
Blogspot travel bloggers can use Chatwing's free shout box to share information about the hottest travel areas. They can also make some itinerary suggestions. Food bloggers, on the other hand, can share information about the best restaurants and recipes that the world can offer. Product bloggers can give tips and honest reviews about conventional or timely products that they have used. Every Blogspot niche blog can benefit a lot from Chatwing app's communication potential. A Chatwing chatroom can also handle up to 1000 users—an indication of its high rate of global connectivity.
The Chatwing team is wholly dedicated in bringing improvements to the premise of online communication in Blogspot. The developers believe that this can only be done by introducing upgrades and developments to the Chatwing chatbox. Currently, the Chatwing team is mapping out a proactive strategy that will introduce the shoutbox to other blogging communities, niches, and important online sectors.
About Chatwing.com
Chatwing.com specializes in the new field of website chat. Over years, the Chatwing team has introduced live chat widget for hundreds and thousands of blogs. The Chatwing application bridges people from many parts of the world, creating global synergy through the Internet. The shout box can be installed in just seconds, and it can be used for varying purposes such as leisure and Internet marketing. It also allows a user to customize the size, color, and name of the widget. Chatwing is 100% free for everyone.