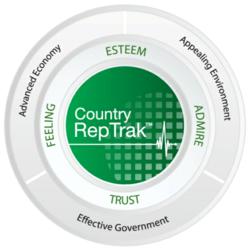 Canada's victory marks the second year in a row that the country has been named the country with the world's best reputation. Canada's triumph can be attributed to its robust scoring in all facets of the study.
London, England (PRWEB) September 06, 2012
Canada has been chosen as the country with the best reputation in the world. The results are from Reputation Institute's 2012 Country RepTrak™ that ranks the world's most reputable countries and determines what drives people to support one country more than another. Reputation Institute conducts the yearly Country RepTrak™ study by polling an online panel of 36,000 people representing the G8 countries.
The study evaluates 50 countries based on people's Trust, Admiration, Respect, and Affinity for them. The four reputation elements are then further broken down into 16 related attributes that include: quality of life; business environment; products and services; and even the country's physical beauty. The key indicators are used to identify the country with the best reputation.
Canada's victory marks the second year in a row that the country has been named the country with the world's best reputation. Canada's triumph can be attributed to its robust scoring in all facets of the study.
"Beyond maintaining its top position, Canada has also improved its score by more than three points. Normally we don't see such a large increase in a score from a top 10 country but Canada now stands head and shoulders above the other leading countries, says Nicolas Georges Trad, Executive Partner, Reputation Institute. The study shows that Canada has demonstrated the ability to improve in the eyes of the world and exhibit global leadership in three key criteria, an effective government, an advanced economy and an appealing environment."
Trad continues, "A country's brand and reputation are shaped by a wide range of factors including history, products, environment, foreign policy, even its famous stars and cultural exports. In Canada's case, think Steve Nash and the totally Canadian holistic brand he has created. He is a perfect brand ambassador for Canada: down to earth, yet incredibly successful—just like the country."
Canada is followed by Australia, Switzerland, Sweden, and the other Nordic countries, all known for their stability, solid democracies, high GDP and strong social infrastructures. Economic powers like China and the USA are placed fairly low, #43 and #23 respectively.
Solid reputation management practices enable countries to be relevant and differentiate themselves on things that matter, which is paramount in the fierce competition to attract tourism and investment dollars.
Global branding and identity expert and Chairman of Saffron Brand Consultants, Wally Olins, believes Canada's success is due to language. "Out of the first six nations both in 2012 and last year, three were English language speakers. Yes I know Canada is bilingual, and of course I deeply respect that. But it's clear to me that having the English language as a primary source of global communications enables people everywhere to understand and appreciate your country better. It gives you a massive advantage in the race for top reputation. It helps with investment, tourism, cultural appreciation—everything.
My conclusion? Whoever you are and wherever you are, learn to speak English really well. It is still very much THE global language and it gives you a huge advantage in the competition to be respected and admired."
TOP TRENDS
A good reputation means more money
A 5-point improvement for the USA on the RepTrak attribute—a country I would recommend visiting—would equal a 14.6 billion USD increase in tourism receipts according to Reputation Institute's modeling.
"In my view, the most valuable insight from the Country RepTrak™ study is what it reveals about the link between country reputations and economic outcomes. Its insights help us manage our activities by identifying the areas that provide our highest return on investment," says Theresa Fairman, Group Manager, Brand Australia
People's willingness to visit countries or invest in them varies across countries
People's perceptions in Germany, Britain and Canada are driven more by the extent to which a country has an effective government, while the Japanese and Russian populations care more about the country's economy, according to the study. English speaking countries seem to differ from others polled in the study in that their opinions of other countries in general, are not influenced by the countries' physical beauty.
Being viewed as people-friendly drives exports
People's willingness to purchase products from a certain country is driven to a very large extent by their perception of how friendly and welcoming (the #1 reputation driver) the people of that country are. So creating a welcoming environment to foreigners does more than attract tourism—it also boosts a country's export potential.
The Obama factor
USA sees a strong 5-10 point increase on certain reputation attributes over the last four years, but no real gain in ranking or overall score. This means that the reputation of the USA is trending towards more positive perceptions.
Emergence of the emerging countries
Brazil, Colombia, Singapore, Thailand and Ukraine all see their Country RepTrak™ reputation attribute—a favorable environment for doing business—grow by some 10 points over the past four years.
The Country RepTrak™ trend matches OECD 2012 forecasts. "Emerging economies will capture an increasing share of the expanding world trade in agriculture. By 2021, developing countries will account for the majority of exports of rice, sugar, beef, poultry meat, fish and many other food products," OECD. This position makes these countries very attractive places to invest in and partner with.
Chinese and Indian brands gain recognition
India's and China's Country RepTrak™ reputation attributes—producing high quality products and services, and being technologically advanced—grew by 5-8 points over the past four years.
"India and China are doing a good job in overcoming their previously poor reputation for producing low quality goods and being difficult to work with. We believe this trend will continue and their exports to developed countries will grow if they continue to effectively manage their reputation," says Kasper Ulf Nielsen, Executive Partner, Reputation Institute.
Italy and Greece are in a free-fall whereas Spain is given the benefit of the doubt
Greece and Italy both experienced the biggest drops in score and ranking this year, while Spain maintained the same score and rank as last year. This indicates that while all three countries are seen as being in the centre of the Euro crisis, Spain has a greater reputation cushion to fall back on in times of crisis.
About Reputation Institute
Reputation Institute is the world's leading corporate reputation consulting firm. Founded in 1997, with a presence in over 30 countries, we are the pioneer in reputation management. Through systematic research and analysis, Reputation Institute supports companies to build comprehensive strategies and make operational decisions that are designed to align stakeholders with corporate objectives creating tangible economic value. We enable leaders to make business decisions that build and protect reputational capital and drive competitive advantage. For more information: http://www.reputationinstitute.com.
Reputation Institute Contact:
Kasper Erbo Mortensen
T: +45 7025 0313
E: kmortensen(at)reputationinstitute(dot)com
Lila Ghayour
T: +1 212 495 3855 – ext. 340
E: lghayour(at)reputationinstitute(dot)com
Canada 1
Australia 2
Sweden 3
Switzerland 4
Norway 5
New Zealand 6
Finland 7
Denmark 8
Austria 9
the Netherlands 10
Germany 11
Japan 12
Belgium 13
the United Kingdom 14
Ireland 15
Spain 16
France 17
Italy 18
Portugal 19
Singapore 20
Brazil 21
Thailand 22
United States of America 23
Peru 24
India 25
Poland 26
Argentina 27
Taiwan 28
UAE (incl. Abu Dhabi & Dubai) 29
Puerto Rico 30
South Korea 31
Chile 32
South Africa 33
Mexico 34
Haiti 35
Venezuela 36
Turkey 37
Greece 38
Egypt 39
Israel 40
Bolivia 41
Ukraine 42
China 43
Colombia 44
Russia 45
Saudi Arabia 46
Nigeria 47
Pakistan 48
Iran 49
Iraq 50