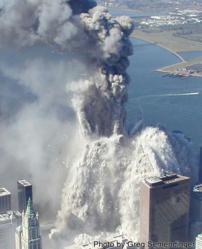 The twin towers did not burn up or slam to the ground. They turned to dust in mid air.

Dr. Judy Wood
New York, NY (PRWEB) September 11, 2012
The best way to honor the dead and the families who lost loved ones at the World Trade Center buildings on 9/11, a terrible day that changed the world, is to resolve the first question which was not thoroughly addressed.
Dr. Judy Wood, author of "Where Did The Towers Go", structural engineer and forensic scientist who spent 10 years examining empirical evidence rather than being lured into political focus or conspiracy theories brings us findings that are nothing short of mind blowing.
In the recent interview with Kim Greenhouse of It's Rainmaking Time!, on 9/11 the twin towers turned to dust faster than if they had fallen. 7, (not 3) buildings were destroyed along with 1,400 cars, some up 7 blocks away from Ground Zero. Over 1,000 people were literally launched out of the twin towers before descending to their deaths. Some bodies were even reported to explode on the way down from the buildings.
New York Police Department Aviation Unit Detective Greg Semendinger, who was in a police helicopter that morning, witnessed the second plane strike the tower from the air and took many photographs. He told the AP that, "There was no sound whatsoever, just the noise of the radio and the helicopter" (Newsday Feb. 10, 2010). 1 million tons of steel, concrete, and building contents turned to dust and fell to the ground and you can't hear anything? How would you explain this?
Dr. Wood's blockbuster book "Where Did The Towers Go", a 500 page labor of love, totally addresses the forensic facts of what happened, why the story of what happened that day does not match the real physics involved and why it's so important that we let the evidence lead to the conclusions and not let the conclusions color the evidence.
If you want to meet a modern day "Colombo" in female form who leaves no stone unturned, who sacrificed 10 years of her life to bring you empirical evidence, tune in to It's Rainmaking Time! and read her book, "Where Did The Towers Go?"