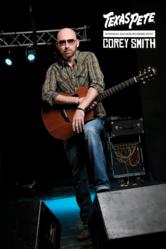 Corey Smith will headline a free outdoor concert at The Blue Note on Friday night to celebrate Mizzou's first football game in the SEC.
Winston-Salem, N.C. (PRWEB) September 06, 2012
University of Missouri fans are already fired up about Mizzou's first football season in the Southeastern Conference. Texas Pete® Hot Sauce wants to wake up football fans even more, sponsoring a free concert featuring Corey Smith on the eve of the big game against the Georgia Bulldogs.
Smith will headline a free outdoor concert at The Blue Note that starts at 7 p.m. Friday, Sept. 7. Admission is first-come, first-served to those who arrive at The Blue Note, located at 17 N. 9th St., in downtown Columbia, MO. Concertgoers may enter starting at 6 p.m. near the corner of N. 9th St. and Walnut.
Joining Smith to rock the fans will be Connor Christian and Southern Gothic. Of course, the Texas Pete® crew will be on hand to give away all sorts of hot swag, including koozies, hot sauce samples, T-shirts and the like; and delicious Buffalo-style wings basted in Texas Pete's signature bold, balanced hot sauce.
"Texas Pete® Hot Sauce is an official sponsor and longtime supporter of the SEC and is excited to help welcome Mizzou into the fold with such an exciting event," said Glenn Garner, Director of Marketing for Texas Pete®. "Corey Smith, like us, is a fan of good food, good music, football and all aspects of Southern culture. Corey epitomizes what is cool about the South, and we're so pleased to partner with him on this event."
For concert information, please visit http://www.TheBlueNote.com.
About TW Garner Food Company (http://www.texaspete.com)
Headquartered in Winston-Salem, North Carolina, TW Garner Food Company is famous for its Texas Pete® Hot Sauce, the number three brand of hot sauce in the United States. Founded in 1929 as a maker of barbecue sauce, the company now sells a full line of hot sauces, wing sauces and seafood sauces under the Texas Pete® brand, as well as salsa and tortilla strips under the Green Mountain Gringo® brand. Texas Pete® and Green Mountain Gringo® products are sold in supermarkets, military commissaries, convenience stores and restaurants throughout the United States. In 2010, Green Mountain Gringo® Salsa was named best overall salsa by Epicurious, among 20 retail salsas that were tested.