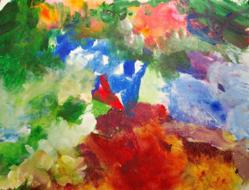 "Our patients have benefitted tremendously from our partnership with the Philadelphia Museum of Art's Accessible Program, and we are all grateful to the Museum for involving us in this impressive exhibit."
- Lori Tiberi, Art Therapist at Magee
Philadelphia, PA (PRWEB) September 06, 2012
Magee Rehabilitation Hospital's Art Therapy Program participants will be featured in the Community Partnerships Exhibit at the Philadelphia Museum of Art. The exhibit, housed in the Museum's Education Corridor, will be on display September 6 through October 21, 2012.
"We are thrilled that our patients participating in our art therapy program have the opportunity to showcase their work in such a world-class institution," said Lori Tiberi, M.A., ATR, Art Therapist at Magee Rehabilitation Hospital. "Our patients have benefitted tremendously from our partnership with the Philadelphia Museum of Art's Accessible Program, and we are all grateful to the Museum for involving us in this impressive exhibit."
Since the inception of the program over a decade ago, Magee's Art Therapy program has served more than 2,000 individuals with disabilities of all levels. Patients that have incurred life-altering injuries require long-term physical and emotional rehabilitation, and art therapy helps them cope with this process and is often regarded as a crucial part of their recovery. Art therapy has also been shown to help people increase self-esteem, resolve conflicts, reduce stress, inspire self-discovery and achieve insight.
"After injury, everyone finds a safe place—mine was in art," said Kay Martin, a patient at Magee Rehabilitation Hospital's Riverfront outpatient center and art therapy participant. "I was in a fog. Art therapy and everyone at Magee woke me up again. Having my work included in this exhibit is such an honor—I never thought in my wildest dreams that someday my work would hang on the walls of the Philadelphia Museum of Art."
The Philadelphia Museum of Art's Division of Education and Public Programs builds and maintains partnerships with community organizations, schools and social-service agencies, offering programs and educational opportunities that connect diverse communities with the Museum's rich collections and resources. The Community Partnership Exhibit highlights artwork from many of the Museum's partners, including Magee Rehabilitation Hospital.
Magee will host a reception at the Museum on October 12 at 5:30 p.m. to celebrate the patients' artwork and to help raise awareness and support for the hospital's art therapy program. To attend the event, call the Magee Development Office at 215.587.3090. For more information on Magee Rehabilitation Hospital's Art Therapy Program, please visit http://www.mageerehab.org/page.php?id=948. For more information about this exhibition or the Museum's community partnerships, visit http://www.philamuseum.org/communityengagement.
###
About Magee Rehabilitation Hospital
Magee Rehabilitation Hospital, a founding member of the Jefferson Health System and part of the Regional Spinal Cord Injury Center of Delaware Valley and a model center for spinal cord injury, is the Philadelphia region's original provider of physical and cognitive rehabilitation. The not-for-profit health organization provides lifetime rehabilitation and wellness programs for individuals with spinal cord injury, brain injury, stroke, amputation, orthopedic injury, geriatric illness or work injury.