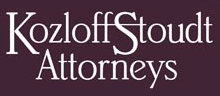 Philadelphia, PA (PRWEB) September 07, 2012
Berks County Living has named Kozloff Stoudt Attorneys the leading law firm of Berk's County during its 14th Annual People's Choice Awards. Kozloff Stoudt's attorneys have the knowledge and experience necessary to represent clients on a full range of legal issues. The lawyers of Kozloff Stoudt have demonstrated impressive success when dealing with issues such as personal injury, estate planning, business law, real estate law, banking law, and municipal law cases. They pride themselves on providing their clients with the superior expertise and personal care clients expect from the leading law firm in Berks County.
For over 70 years, the firm has defended the rights of Berks County citizens in matters of business and commercial, personal injury litigation, employment law and discrimination, and estate planning and administration. Kozloff Stoudt attorneys are active not only in the courtroom but also in the community of Berks County. The attorneys and staff of Kozloff Stoudt are dedicated to community service with the Cystic Fibrosis Foundation, Berks County Habitat for Humanity and the American Heart Association. Members of the firm also serve their country as part of the Reserve components of their armed forces through the Pennsylvania Army and Air National Guard. The Attorneys at the Kozloff Stoudt Law Firm are dedicated to making a difference.
The litigation team at Kozloff Stoudt achieves exceptional results for its clients in all federal and state courts, administrative tribunals, meditations and arbitrations.
To contact a lawyer from their law firm, please call 610-370-6700 and be sure to visit kozloffstoudt.com for more information. For legal advice, also email advice(at)kozloffstoudt(dot)com.