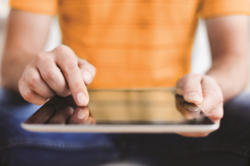 Our entire team is focused on ensuring that the new UI demonstrates an improved user experience and increases efficiencies for all stakeholders.
Nashville, TN (PRWEB) September 08, 2012
While students and teachers were enjoying their summer breaks, RANDA designers and developers were working full-throttle to release TOWER System 2.0 and TOWER Mobile 2.6. Both represent significant upgrades in usability while the user interfaces themselves are strikingly clean and intuitive.
"We're thrilled with the superb work of our UI team led by Stephen Burgin," says Randall Dennis, Chief Strategy Officer for RANDA Solutions. "Stephen's creativity and leadership both, internally and in coordination with ST8MNT, has produced a superb user experience that simply looks great."
Burgin, RANDA's UX/UI Lead Architect, explains his goals. "It's not just about making the product look great. Our entire team is focused on ensuring that the new UI demonstrates an improved user experience and increases efficiencies for all stakeholders." Both the TOWER Mobile apps for iPad and Android were re-worked, as well as the TOWER System web portal. Says Dennis, "The result of these combined improvements demonstrates we continue to be committed to our marketing statement 'RANDA - simply innovative'."
Among TOWER's new features are the creation of a concept RANDA calls "Workflows". TOWER clients have the option of completely customizing how their observation cycle takes place throughout the year.
TOWER System: version 2.0

Fresh, even more user-friendly look and feel to the web portal
Customized (customer-specific) workflow allows the client to manage their entire yearly review/observation process; integrates any forms (self assessments, pre- and post- reviews, growth plans, etc.), observations, and artifact gathering requirements
Administrators can quickly see all educators and the percentage of observations complete for each individual's workflow; cross-location and cross-evaluation tracks within your system.
TOWER Mobile: version 2.6

Improved updating rubrics during sync
Added user option to remove empty script blocks
Added new sync reminder features
Rubrics with scripting provide capability to navigate back and forth between evidence/mapping/scoring pages
Observation list indicates observations as announced and unannounced
Added capability to date/time stamp general notes data entry on rubric scoring page
User input auto-saved (avoiding accidental deletion)
Use iPad e-mail client to send observation results if rubric is enabled for this feature and email is configured on device
Timer value expanded beyond hours and minutes to include seconds
Other general enhancements and improvements
School districts interested in TOWER can visit the http://tower.randasolutions.com website to see introductory videos and schedule web demonstrations with RANDA solutions consultants. Direct access to the videos is provided at http://tower.randasolutions.com/video-demos . Demonstrations of the TOWER System and TOWER Mobile can be scheduled via http://tower.randasolutions.com/inquiry-form/.
About TOWER System and TOWER Mobile
RANDA's TOWER System (Teacher Observations, Walkthroughs, Evaluation and Reporting) was written with educators for educators, with the benefits they wanted the most:
‣ Paperless. Observers and administrators save time. Observation quality and accuracy improves. Data is accessible and usable.
‣ Manageable. Straightforward observation and walkthrough scheduling. Trouble-free progress monitoring.
‣ Easy! Simple to learn. Simple to operate.
‣ Mobile. Synchronization to TOWER Mobile native apps offer complete mobility and security without 100% Wi-Fi coverage.
‣ Rubric agnostic! Flexible, to change as states' requirements change.
About RANDA Solutions
RANDA Solutions is an INC. 500 software firm based in Nashville, TN serving the education sector. RANDA acquires, manages and utilizes data providing administrators and teachers a variety of education intelligence: Student Data (student identification, student demographics, summative and formative assessments, student growth, course completion, and college readiness), Educator Data (educator identification, educator demographics, professional development/continuing education, teacher student data link, value added assessment alignment, and teacher effectiveness), and Third-party Data (community demographics, school climate, early warning data, etc.). Historical and live data reporting, along with additional customized content, is delivered via RANDA's secure web portals and integrates seamlessly with RANDA's cross-platform mobile applications for iPads and Android devices.
# # #