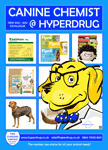 Quote code DP9 and get a 10% discount on Easimax and Fipnil great value for money alternatives to Drontal and Frontline
(PRWEB UK) 8 September 2012
Hyperdrug – home of the Canine Chemist can help save money on essential wormer and flea treatments like Drontal and Frontline! Don't forget that tapeworms are spread in dogs and cats from fleas which they swallow while grooming themselves.
Darren Walton manager of Hyperdrug says
"Thanks to the Canine Chemist you can't afford not to treat your dog for both fleas and worms. "
Fipnil is a fipronil based, flea treatment which protects dogs from fleas for 8 weeks and ticks for 4 weeks. Fipnil is the value alternative to Frontline™. Fipnil can also be used on puppies from 8 weeks of age weighing more than 2kg. Using the same active ingredient as the brand leader this great value product offers complete protection for pets and family. Plus, by keeping pets flea free you will reduce the risk of tapeworm infestation at source. It must be remembered that in order to protect fully from fleas it is essential to treat the house with an environmental spray as well as washing the pets bedding on a hot wash to kill the flea eggs and larvae. It is also a good idea to vacuum regularly to wake the larval stage from dormancy in order that the insecticidal flea spray can kill them.
Easimax Dog Wormer is a triple action, full strength wormer, containing the same ingredients in the same concentration and the brand leader. Easimax will treat for Roundworm, Tapeworm, Hookworm, Whipworm as well as the worm eggs and larvae. Dogs are well covered with Easimax. An own brand Hyperdrug product provides assurance of high quality but exceptional value for money, the ideal Drontal™ alternative.
PLUS ENTER CODE DP9 AND RECEIVE 10% OFF Easimax & Fipnil.
Offer valid once per customer and may be withdrawn at any time.
Hyperdrug is a pharmacy that has been trading since 1828 and is indeed the first online pet pharmacy.