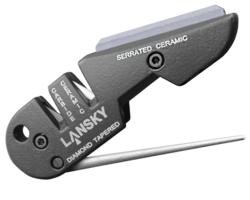 Buffalo, New York (PRWEB) September 07, 2012
Lansky Sharpeners, a world leader in innovative sharpening technology, adds another landmark to their ever expanding product line with the release the new Blademedic Knife Sharpener. The Blademedic was designed to be the first responder for all field repairs on all types of knife blades. Featuring four different sharpening elements in one small portable package, the Blademedic incorporates diamond, ceramic and whetstone material into one tool.
The ergonomic design makes the Blademedic ideal for travel and outdoors use and gives users the ability to tackle any blade type and steel with ease. Carrying the Blademedic is like having an entire sharpening kit right in your pocket. With the ability to tackle regular or serrated blades, gut hooks and any number of other blades, the Blademedic Knife Sharpener utilizes each of its sharpening elements in any ideal combination.
The sharpening elements on the Blademedic Knife Sharpener include a Diamond Tapered Rod for fast reconditioning and material removal. Use the Diamond Tapered Rod to remove nicks and burs on machetes, axes and knives or to gently sharpen a hard to reach gut hook. The Tungsten Carbide Sharpener is ideal for lightning quick repairs and the Ceramic Sharpening Rods polish to finished edge in three or four strokes. Both the Tungsten Carbide and the Ceramic Sharpening Rods make quick work of small repairs and a quick honing of your favorite blade.
Blademedic's final sharpening element, the Serrated Knife Sharpener, is designed to get inside and repair even the smallest serrations and also functions as a small bench stone for your straight blades. This full sharpening system is small enough to fit in your change pocket and tough enough to handle even the most intense repairs.
The development of all the elements that comprise the Blademedic Knife Sharpener began in 2011 and came together just in time to be showcased and introduced during the Shooting, Hunting, Outdoor Trade Show (SHOT Show) in January of 2012. After receiving a warm reception at the SHOT show, the Blademedic Knife Sharpener went into production and started to hit shelves in May of 2012.
About the company:
Lansky Sharpeners is the most recognized name in knife-sharpening worldwide. In addition to their legendary Controlled-Angle Sharpener System, they continue to develop new sharpening technologies and innovations for hunting and outdoor sports, kitchen use, as well as the workshop. They are known for their hunting knife sharpeners and precision sharpening kits. Visit their Online Store to view their ever-expanding line of great sharpening products. For more information visit their website at http://www.lansky.com.