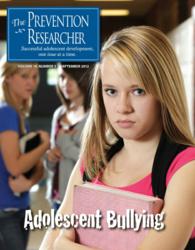 ... today, there are still no easy answers for the prevention of bullying ...
Eugene, OR (PRWEB) September 10, 2012
"Over the past 20 years, bullying research has progressed from defining forms of bullying to exploring research-based methods of prevention and intervention," says Steven Ungerleider, Ph.D., founding editor of The Prevention Researcher. "Along the way, cyberbullying has emerged, changing our perspectives on bullying and its impact on youth. For professionals working with young people, a deeper understanding of the latest bullying research and how it can be put to use is vitally important."
Today, bullying is a widespread problem among children and adolescents, especially in middle schools and high schools. It has consequences for both the bully and the victim, often leading to a variety of psychological and behavioral problems. Studies of cyberbullying have also shown detrimental psychosocial problems for victims of internet harassment.
In the current issue of The Prevention Researcher, researchers explore adolescent bullying, focusing on prevention and intervention of traditional bullying done face-to-face or by social isolation as well as cyberbullying using electronic communications.
Drs. Jing Wang and Ronald Iannotti provide an overview of the latest research on teenage bullying and explore the prevalence and demographic differences for traditional bullying and cyberbullying among U.S. adolescents. They also review risk and protective factors, potential impacts, and the relationship between the two types of bullying.
In their article, Justin Patchin and Sameer Hinduja (both from the Cyberbullying Research Center) provide a deeper understanding of cyberbullying and explore promising school-based approaches in both policy and practice that may reduce cyberbullying among youth. They note that action by educators is "crucial in order to protect our youth from peer-based emotional and psychological victimization and to create and maintain a safe and supporting learning environment in which both students and adults can thrive."
Lately, the news media has had many stories about bullying and lesbian, gay, bisexual, and transgender (LGBT) youth. In "Promising Strategies for Prevention of the Bullying of LGBT Youth", Joseph Kosciw and colleagues explore a decade of research on the experiences LGBT youth have in school which are related to bullying. Plus they discuss implications for professionals who work in the fields of youth development and education.
An often overlooked point of view on teenage bullying is that of teens themselves. Using focus group data, Dr. Nancy Guerra and colleagues provide the perspectives of middle and high school-aged youth, relating those perspectives to implications for prevention. They write that "perhaps the most noteworthy finding is the increasingly sexualized nature of bullying in adolescence" and that "bullying quickly becomes a tool for advancing sexual appeal and one's status as a romantic partner." The researchers say that "programs for teenagers must focus on healthy relationships and how to relate to peers in the context of this emerging romantic involvement."
The final article in the issue is a research dialogue on "Bullying Prevention" with bullying researcher, Dorothy Espelage. Having conducted research on bullying prevention and intervention for the past 18 years, Dr. Espelage provides her perception on bullying and the effectiveness of current prevention programs. She notes that "bullying is a group phenomenon" and that "in many regards, bullying can be viewed as a peer-driven phenomenon that is both encouraged and maintained by characteristics of the peer group."
"Today, there are still no easy answers for the prevention of bullying," concludes Dr. Ungerleider with The Prevention Researcher. "Even so, promising new strategies for effective prevention and intervention are being implemented that are making a difference in our schools and communities."
For a preview of a digital edition of The Prevention Researcher on "Adolescent Bullying," visit http://www.tpronline.org.
About The Prevention Researcher
Founded in 1994, The Prevention Researcher is published by the non-profit, Integrated Research Services in Eugene, Oregon. The quarterly journal focuses on successful adolescent development and serves professionals who work with young people in a variety of organizational settings.
Each issue of The Prevention Researcher covers a single topic, presenting the latest adolescent behavioral research and findings on significant issues facing today's youth. The journal provides information about programs that create supportive environments for youth, strategies for preventing problems affecting adolescents, and resources that help youth-serving professionals.