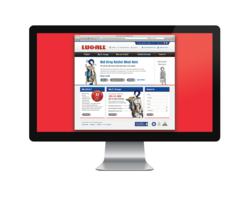 (PRWEB) September 12, 2012
LUG-ALL is pleased to announce the launch of a new website: http://www.LUG-ALL.com.
The website aims to be as user friendly as possible, meeting the needs of both company distributors and end users. A key feature in accomplishing LUG-ALL's goal of immediate access to information is the new LUG-ALL mobile site, which is compatible with iOS5, Android 2.3x and 3x, and Blackberry OS7+. End users can now access http://www.LUG-ALL.com at any time, from any Internet connected laptop, desktop, smart phone, or tablet.
The site also offers a new and improved "Parts Store" where users can search, identify, and order LUG-ALL hoist replacement parts online, as well as access all current and past orders through a "Distributor Portal". Other site features include new videos and application photo galleries. To learn more about the new site please contact our sales office at: (877) 658-4255.
About LUG-ALL
The LUG-ALL Corporation is an industry leading manufacturer of cable and web strap lever ratchet hoists, also known as come-alongs. LUG-ALL pioneered the original lever ratchet hoist in 1949. Manufactured with heavy-duty aluminum frames and interlocking pawl systems, LUG-ALL hoists are known worldwide for their high quality and rugged durability. Every LUG-ALL hoist is made in the USA at the LUG-ALL plant located in Birdsboro, Pennsylvania.
To learn more about LUG-ALL hoists, please visit http://www.LUG-ALL.com. If you would like to receive any of our promotional literature, please contact, Rebecca Mamola, Marketing Coordinator, LUG-ALL, at rmamola(at)spanco(dot)com.