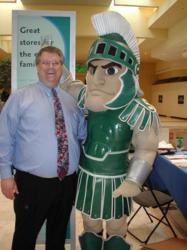 "Receiving a check back for our efforts was a bonus that we didn't expect or anticipate. We were pleasantly surprised as we searched online for reviews and found overwhelmingly positive reviews about Planet Green." - Ken Dail, Prevention Network
Chatsworth, CA (PRWEB) September 12, 2012
The Official Planet Green Recycle Blog spotlights non-profit organization, Prevention Network to share tips about how they have created a highly successful fundraising program with Planet Green Recycle.
Planet Green Recycle speaks with Kristine Norton and Ken Dail at Prevention Network to learn more about the organization. Dail explains, "Our mission at Prevention Network is to help Michigan communities prevent underage alcohol use, youthful tobacco use, and other substance abuse."
Planet Green Recycle asks the question, "What made you want to participate in this type of fundraising program?" Dail responds, "We wanted a reputable place to conveniently recycle the inkjet cartridges we have accumulated while doing business. We were happy to learn that Planet Green does this. Receiving a check back for our efforts was a bonus that we didn't expect or anticipate. We were pleasantly surprised as we searched online for reviews and found overwhelmingly positive reviews about Planet Green. As a non-profit agency with a mission pointed towards helping people, we thought this was a win-win proposition for not only our agency, but for our service recipients throughout the state of Michigan."
On how Prevention Network has created a successful recycling fundraising program with Planet Green Recycle, Dail expalins, "Prevention Network sends out regular e-mail information to the substance abuse prevention and recovery fields in Michigan. We have added information to many of those notices about our program, and about Planet Green. For those who aren't regularly in our Lansing office, we are encouraging them to contact Planet Green and set up their own recycling program through you."
Dail continues, "We have always looked for ways to reduce the impact we have on our environment. We actively recycle anything that our staffs' various local recycling programs will accept. Planet Green has increased our capacity to recycle additional items such as small electronics and inkjet cartridges, and has given us some extra incentive to reach out to others to do the same."
In addition to spotlighting participating organizations, The Official Planet Green Recycle Blog posts consist of "green" living, support for US manufacturing, fundraising tips and more.
About: Founded in 2000, Planet Green Recycle is located in Chatsworth, CA and is a leader in recycling fundraising programs. Beginning a Planet Green Recycle fundraising program is fast, easy and free. To "Help the Planet and Help Your Cause" … schools, religious organizations and non-profits can go to the Planet Green website and SIGN-UP at http://www.planetgreenrecycle.com.