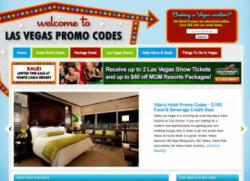 Las Vegas, NV (PRWEB) September 07, 2012
Novada Media LLC recently revamped its popular Las Vegas portal, LasVegasPromotionCodes.com. The site, which provides visitors with city-centric deals, news and more has added new resources, more content and a bold new design.
"The site has always provided users with in-depth information on Las Vegas – what to do, where to go, where to stay," said Matt Ley, founder of Novada Media. "The redesign now makes it even easier to navigate and find the information people are looking for. I am excited to give our visitors an even better experience when they search for information."
LasVegasPromotionCodes.com now includes daily news items about Las Vegas and expanded visitor information, including shows and free attractions. In addition, the site has also incorporated social media and has launched a Facebook page to give people instant news and deals.
About LasVegasPromotionCodes.com: Created in 2007 by Novada Media, the original site was designed to promote the latest room deals at popular resorts in Las Vegas. Today, the site is a resource for people who want to learn more about the city, as well as find the best deals. The trust site has more than 5,000 monthly e-mail subscribers who receive the latest closed-loop hotel deals in their inbox every month. For more information, please visit http://www.lasvegaspromotioncodes.com and find them on Facebook, http://www.facebook.com/LasVegasPromotionCodes.