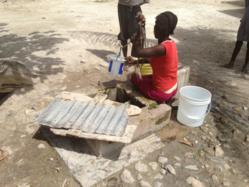 a secure water supply is vital to the health and well being of the community

Nashville,TN (PRWEB) September 14, 2012
Dr. David Vanderpool, CEO of Mobile Medical Disaster Relief, recently returned from Haiti after assessing lingering impacts from Hurricane Isaac, a storm responsible for at least 29 fatalities throughout Haiti and the Dominican Republic. Dr. Vanderpool stated, "in addition to the loss of life, property damage and impact to vital food sources, the excessive rain and resulting flooding heightens the risk of a cholera outbreak. Because this disease is transmitted via contaminated water sources, a secure water supply is vital to the health and well being of the community."
Mobile Medical Disaster Relief has been mobilized in Haiti since the 2010 earthquake treating over 25,000 patients. Due to the high prevalence of intestinal infections observed in the medical clinics, MMDR has undertaken a clean water initiative to address this major cause of health problems in the general population. To understand the quality of the common water sources, testing revealed that E. coli and salmonella were prevalent in nine of ten water collection sites.
In July, the first water filtration system was installed to treat a shallow contaminated well near Thomazeau (watch the video). Subsequent systems will be installed over the course of the next year targeting clean water access to all 180,000 residents of the region. "The beauty of the system is its ease of maintenance and cost effectiveness providing water for fractions of a penny per user," according to Dr. Vanderpool.
Mobile Medical Disaster Relief provides medical care, clean water, nutritional support and micro finance solutions to the developing world after natural and man made disasters. MMDR has broken ground on the Live Beyond Base that will house a surgical hospital, orphanage, secondary school, and vocational training center to fulfill the unmet needs of this region's 180,000 residents. Dr. Vanderpool's practice, LAVE MD, http://www.lavemd.com, has primarily funded MMDR since inception in 2005.