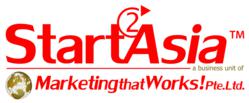 Expanding a business in one or more markets in Asia requires a rigorous market analysis identifying market opportunities and potential, and is a key goal for the international business strategy of any major company
(PRWEB) September 08, 2012
Maintaining quality standards and sustaining profitable growth in the competitive markets in the ASEAN region of South-East Asia, and in the rapidly evolving marketplace of China, requires powerful marketing strategies that enable companies to build, nurture, and maintain long-term and profitable business relationships.
In line with its corporate motto of "Redefining Global Marketing Strategy", Singapore-based international business management consulting firm Marketing that Works Pte Ltd has launched Start2Asia™, a dedicated business unit for international SMEs and MNCs with a potential for growth in selected markets in Asia: Singapore, the ASEAN region, China.
Start2Asia™, whose name recalls the proactivity of doing business in the region that drives global economic growth, provides a one-stop business solution to achieve scale and growth in Asia thanks to a unique suite of integrated Strategy, Marketing, Business, and Corporate services.
"Start2Asia™ provides companies with a focus on market opportunities and potential, with a modern thinking approach, and a structural understanding of markets in Asia, and we deliver a practical business framework for developing a winning market entry strategy plan", said Antonio Acunzo, Marketing that Works!'s CEO.
"Markets in Asia present unique features and challenges, and it's important to adapt to the unique local values and cultural differences by designing a marketing communication strategy and advertising messages according to the needs of local markets" said Massimiliano D'Aurelio, Marketing that Works!'s VP, Communication.
If one or more of the following tasks fit within your international business strategy:
● Export your products and/or services to selected markets in Asia
● Joint-Venture: Develop a JV with a local partner in the Asian region
● Internationalization: Develop an effective Market Entry plan in one or more markets in Asia
● FDI: invest in Asia
● Incorporate your company and regional Asian office/branch in Singapore,
then Start2Asia™ is your team player in Asia for your new successful Start2Asia.
"We at Start2Asia™ work in team with clients for designing and executing their market entry strategy plan, and when a company contacts us, we offer a first complimentary evaluation of the business project followed by presenting a business-focused market entry & business development framework designed to generate new business from relevant target markets. Our consulting fee structure is simple and clear, and we call it PxM, Pay per Marketing, as our pricing structure is calculated according to the business scope, the complexity of the task, and the type of solutions applied to the Foreign Market Entry project", added Mr. Acunzo.
ABOUT START2ASIA™ & MARKETING THAT WORKS!:
Start2Asia™ is the Asia market-entry strategy business unit of Singapore-based international business management consulting firm Marketing that Works Pte Ltd. Start2Asia™'s areas of expertise include Strategy, Marketing Communication, Business and Corporate consultancy and services for Foreign Market Entry projects (Joint-Venture, FDI, Export) in selected markets in Asia (Singapore, ASEAN, China), and Singapore company incorporation.
120 Telok Ayer Street, Singapore 068589
(+65) 8188-2467
http://www.start2asia.com