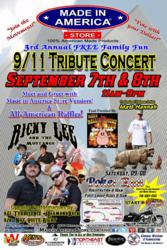 Elma, NY (PRWEB) September 07, 2012
The Made In America Store will be hosting one of the biggest events this September. Friday the 7th and Saturday the 8th will present live music performances, food vendors, chainsaw sculpture demonstrations and much more. One of the more unique features of the event is the 12 Made In America Store vendors that will be coming to the store to setup their own tents to talk about their products and provide samples.
The first table to visit will be the 'All-American Raffle' where gift baskets full of American-made products will be raffled off! For $5.00, participants will receive a sheet of raffle tickets and for $20.00 participants will get 5 sheets! Also at the 'All-American Made' raffle table there will be 50/50 tickets going on sale. The 'All-American' Raffle table will going on both Friday and Saturday of the event. Winners' numbers will be posted after the drawing and participants do not have to be present to win. Only the 50/50 winning number will be announced.
Mapleview Alpacas will be making a presence at the 9/11 Tribute Concert Event. Ed Perot, owner of Mapleview Alpacas, will be bringing his Alpacas to the event to show them off and inform anyone interested about the furry animals. Mapleview Alpacas will only be on display on Saturday, the 8th.
Aurora Art will be coming to the event with their amazing art prints and posters. Recently, the Made In America Store has brought in Aurora Art and their vibrant prints. One series in particular that is sure to sell is their unique take of Military Fighter Jets and their names represented in an essence with them. Aurora Art will be at the 9/11 Tribute Concert Event will on site both Friday and Saturday.
Baldwin Hill Farms will be bringing their iconic Maple Syrups. Baldwin Hill Farms will be at the Made In America Store on both Friday and Saturday.
Dale's Rollin' Smoke BBQ will be the focus on serving food for the September 11th event. Dale's Rollin' Smoke BBQ will be serving Pulled Pork Sandwiches, Barbecued Hamburgers and Hot Dogs throughout the whole event.
There will be another booth for Face Painting for the children at the Made In America Store. The Face Painting booth will be open Saturday only.
General Welding & Fabricating will be present showing their BOSS Snow Plow line and the Action Trackchair. General Welding & Fabricating will have a special promotion with BOSS Plows by taking $200 off any model of BOSS Snow plow with a $200 down payment during the 9/11 Tribute Concert Event. Also, General Welding & Fabricating will be demoing the Action Trackchair, an all-terrain chair for disabled vets who could not otherwise get outdoors.
Insane Chain is owned and operated by Matt Hannah. This United States Marine Veteran took a calling to sculpting and not with the typical tools usually used to sculpt. Matt Hannah has the unique skill of carving sharks, bears, eagles and castles out of tree stumps using only a chainsaw. Details are not spared when it comes to his sculptures either. Hannah will be busy sculpting all day Saturday for viewers to enjoy.
Ken's Service & Sales will have their own 10'x10' tent for the motorcyclists involved in the Poker Run. The Motorcycle Poker Run benefits the WNY Heroes Inc. Organization by raising money to help Veterans who could not afford Medical Assistance otherwise. This will be the second last stop for the Motorcycle Run, right before the American Grille on Seneca!
SkiSox is a manufacturer that creates a sock like item that both protects skis and keeps them bundled together safely. Right before the harsh Buffalo weather kicks in, let SkiSox show you an alternative for your skis!
Bada-Bing Pet Supplies has been with the Made In America Store for almost a year now and their business hasn't been slowing down. Since their commercials on Animal Planet with former Sopranos star Artie Pasquale, Bada-Bing Pet products have been growing, expanding their product lists and not looking back. Laura LaCongo, owner of Bada-Bing Pet Products, will have samples, coupons and information of her full line of Pet Treats, Shampoos and Dental Products. Bada-Bing Pet Products will be at the event all day Saturday.
For anyone at the 9/11 Tribute Concert Event who is craving something sweet and salty can be relieved to know that Barrett's Kettle Corn will be in full service both Friday and Saturday!
The Made In America Store, which is located at 900 Maple Road in Elma, New York, is committed to selling 100% American manufactured products. You can visit http://www.MadeInAmericaStore.com for more information or shop our catalog of over 3,500 products from over 300 vendors that are devoted to producing USA made products. All US military personnel, both active duty and veterans, receive a discount every day. Consumers can also keep up to date news articles, events, photos and contests with Facebook, Twitter, Google+, Pinterest and FourSquare!