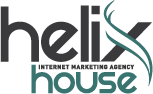 ...I didn't realize just how much money I was losing each and every day due to a poorly managed online campaign.
Tempe, AZ (PRWEB) September 06, 2012
An Arizona-based corporation specializing in innovative internet marketing solutions, Helix House recently revealed their remarkable 97% client success rate. Businesses large and small from across the nation, who have discovered Helix House, have steady increases in their bottom line through utilizing Helix House services.
"I knew that a good online presence was important, but I didn't realize just how much money I was losing each and every day due to a poorly managed online campaign," said Joseph D. of Arizona. Joseph, who owns a small business consultation firm, indicated that he especially appreciated the "individualized attention by a dedicated agent" he received from Helix House.
Alex R., who owns Catalina Pawn in Tucson, relies on the latest media marketing tools, such as text message marketing, to reach his customers. "I have been able to gain new business, and new loyal customers, by sending out text messages. I have a small store front, but thanks to this new technology more customers are noticing me."
Gone are the days of traditional TV, cable, or radio commercials, where the likelihood of reaching the target market was hit-and-miss. Today's fast-paced marketplace demands modern advertising and promotional strategies. Through the advanced marketing solutions offered by Helix House, businesses can reach those individuals who are in the position of making informed purchasing decisions, at a time and place where they are most likely to be "in the mood" to buy.
Irina is the CEO of a family-owned and operated chain of cafes. "We have been here for 2 generations. We've always used TV advertising. I understand that DVR technology is a great and wonderful thing, but it has caused my commercials to become virtually worthless."
Irina indicated that she anticipates passing the torch to her daughter, Katherine, in the relatively near future. Katherine, who has helped her mother in the business since she was a young girl, discussed with us her understanding of the changing marketplace.
"Mom means well. But she only knows what has worked in the past. She fears what she does not know. I am looking forward to helping our company move forward into the modern era with Helix House."
A recent online survey conducted thru an affiliate of Business Week indicated that the predominant reason behind failure to use SEO/SMM or related technologies is a lack of understanding. Thankfully, for those who take the time to learn and understand these changes, business is growing by leaps and bounds.
When we asked Andrew K., a new Helix House client, how he feels about his recent marketing experiences, he replied, "In the past, I trusted my business to an alternative provider, using the old tried-and-true flier distribution method. They offered lower rates. I'm all about saving money and I learned the hard way... I was mistaken. Since turning to Helix House, they have never failed me, or my company. Business is booming. Customers are happy. I'm happy. It's a win-win all the way around"
Voted Arizona's #1 SEO/SMM corporation in 2012, Helix House continues to provide reliable client ROI focused services in an ever-changing industry.