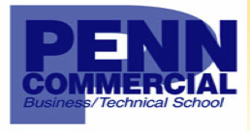 Veterans and their families have sacrificed so much, it is our honor to help them...
Washington, PA (PRWEB) September 07, 2012
Veterans and their families deserve all the help they need so they can make a successful transition to civilian life. That's why Penn Commercial Business/Technical School is co-hosting a Veterans Expo on Friday, September 14th from 10 am – 2 pm at Penn Commercial's campus, 242 Oak Spring Road in Washington.
"Veterans and their families have sacrificed so much, it is our honor to help them get the information they need to successfully transition to the next phase of their lives," says Jayme Tuite, Penn Commercial's Director of Admissions.
Penn Commercial's Veterans Expo is also hosted by PACareerLink, Washington County's service for jobseekers. A complimentary lunch will be provided by Hogfather's and children are welcome.
Jayme Tuite goes on to explain, "We've organized this Expo to provide veterans and their families with all kinds of information they can use, at one convenient event. There will be information about veterans healthcare benefits, as well as other resources and services available to veterans. Plus, this will be a great employer networking opportunity. And while they're visiting the Expo, we hope veterans and their families will explore the educational opportunities Penn Commercial has to offer."
Admission to Penn Commercial's Veterans Expo is free, but those interested in attending are urged to call 724.223.4520 or email jtuite(at)penncommercial(dot)edu to reserve your space.
Penn Commercial Business and Technical School offers career-focused degree and diploma programs in healthcare, business, technical and trade, and spa and salon. A number of their programs can lead to good careers in the Marcellus Shale industry. Penn's classes are hands-on, their schedules are flexible, and financial aid is available for those who qualify.