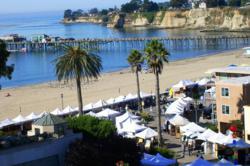 It is no surprise that the Capitola Art & Wine festival is considered one of the best in the state. - Krista Hammond, owner Santa Cruz Sea Glass
Santa Cruz, CA (PRWEB) September 07, 2012
Celebrating its 30th year, the Capitola Art & Wine festival will transform the small ocean-front town into a street lined party. Featuring 150 juried fine artists, over 20 local wineries, live music, performing artists and gourmet food - this is a festival not to miss.
Owner, Krista Hammond of Santa Cruz Sea Glass is no stranger to Capitola, going to the town since the 80's to play beach volley ball, hunt for sea glass and surf. "Capitola is a classic beach town, right on the water. A great beach with good food, stores and plenty of charm. It is no surprise that the Capitola Art & Wine festival is considered one of the best in the state." comments Krista.
Krista also produces her own festival, the 4th Annual Santa Cruz Sea Glass & Ocean Arts festival, held at the Santa Cruz Boardwalk every November and co-created the 1st Annual Lake Erie Sea Glass & Coastal Arts Festival, with fellow sea glass company Relish, Inc. Both shows highlight ocean conservation and donate a portion of proceeds to local organizations.
Owners of Santa Cruz Sea Glass, Krista and her husband Tony, create one of a kind hand crafted sea glass jewelry, from the pieces of sea glass they have found along the Santa Cruz coast. Started in 2006, after apprenticing with long time friend and master silversmith, Robert Wunce. Robert Wunce the Silversmith will also be selling his silver and hand carved precious stones creations at Capitola this weekend.
If you like the ocean, fine art, great wine, gourmet food and lots of music - come to the admission free 30th Annual Capitola Art & Wine festival this weekend September 8th & 9th from 10am-6pm on the Esplanade in Capitola.