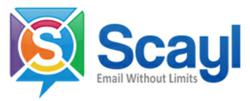 Portland, OR (PRWEB) September 07, 2012
Scayl, a next-generation email application capable of sending big files, today introduced Scayl for Mac. Scayl for Mac provides a much easier and quicker way to email unlimited-sized files including Blu-ray and HD 3D videos. Media are invited to attend Scayl's demo of its new Mac and PC versions, (already available for Windows), at IBC2012 Amsterdam, RAI Exhibition Center, Booth 4.C83 on September 7-10th.
"We are thrilled to give Mac users a new way to distribute movie files more easily and inexpensively than the uploading, downloading and streaming services that are currently available. It's being adopted for film editing, film festivals, and distribution," said Bill Kallman, CEO of Scayl. "Scayl's approach provides a cure to email's current core problem sending very big files– one-to-one or one-to-many."
Scayl's free version of its "Email Without Limits" offers a secure delivery method for high-definition videos to users for immediate playback on big displays or in a user's media player. It is the first direct delivery distributed cloud service social email platform that eliminates the pain of online big file side services by working seamlessly with legacy email.
Scayl provides a high-performance, low-cost digital parcel service capable of delivering and receiving several massive-sized files simultaneously. Current email and popular centralized client-server services include file size limits, storage, and premium distribution costs.
At NAB 2012, the world's largest Broadcasting Technology show in Las Vegas, Scayl's CEO was the keynote presenter in the Cloud Computing Conference: "When we learned about Scayl's launch plans, and considered the potential benefits of its latest release to high-value content distribution – especially high-definition and three-dimensional videos - there was no question about it. We wanted Bill to do the opening keynote of our inaugural Cloud Computing Conference at NAB," said Marty Lafferty, CEO of the Distributed Computing Industry Association (DCIA).
"Scayl is the biggest news at this year's NAB (with over 1,500 exhibitors)," said Dr. Bill Rogers, Executive Producer, Technology Today (8 million viewers). There is no learning curve on how to use Scayl because everyone knows how to send email."
Scayl enables creators, marketers, and publishers to distribute high-quality content — vivid uncompressed video files, suitable for Web TV — with email ease-of-use. Scayl is a transformational revelation for video editors as it increases workflow by offering a reliable, quick, and hassle-free way to send files faster and easier worldwide that previously requiring mailing CDs, DVDs, and data discs.
About Scayl
Scayl's distributed email software combines both email and server software functions in one easy-to-use application. Scayl provides secure content email delivery with support for DRM. It is a free, easy, and fast method to securely deliver big files, one-to-one, one-to-many and many to a few. Businesses and content providers can license Scayl for ad-free service and content delivery applications. The company's alpha release runs on both Windows 7 PCs and Macs. Scayl will run on many platforms. Scayl can be downloaded at: http://www.scayl.com