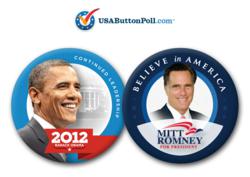 We set up a booth and had a great turnout at the Democratic National Convention this year.
(PRWEB) September 07, 2012
USAButtonPoll.com, a unique presidential polling site, announced the latest results in the 2012 polling between President Obama and Mitt Romney. As of Thursday, Sept. 6, the poll results show Obama leading with 51.2 percent of the votes compared to Romney's 48.8 percent. The voting percentages are tabulated each evening and include that day's votes online at USAButtonPoll.com and in the company's retail stores.
"The majority of people who purchase presidential buttons and participate in the poll take voting seriously," said Jim Warlick, founder and CEO of USAButtonPoll.com. "It is a fun way for people to support their favorite candidate, knowing they can rely on us for an accurate prediction of the presidential race."
Warlick grew up in Morganton, N. C. where his interest in politics was spurred on by local Senator and Watergate hero, Sam J. Ervin Jr. Warlick began creating buttons and designed a system so each customer's purchase would update the poll showing which presidential candidate had been selected the most. Since 1988, the USAButtonPoll.com has correctly reported election outcomes in 1988, 1992, 1996, 2004 and 2008, and received national recognition for the accurately predicted outcomes of these presidential elections.
The 2012 presidential candidate buttons for Barack Obama and Mitt Romney are currently online. Each button is $4.95, and the price includes shipping. Buying more than one button does not affect the poll because each voter only gets one vote.
To purchase a USAButtonPoll.com button and participate in the poll, visit http://www.usabuttonpoll.com.
About USAButtonPoll.com
The USAButtonPoll.com, founded in 1998 by Jim Warlick, is a unique polling site that has been featured on programs such as Good Morning America, Hardball, and The Today Show. Customers who make a purchase on the site are able to cast a vote in one of the nation's most reliable polls. Since 1998 USAButtonPoll.com has accurately predicted (with the exception of the 2000 race) the outcome of the presidential election. For more information, visit http://www.usabuttonpoll.com or call 1-877-868-4062.
###