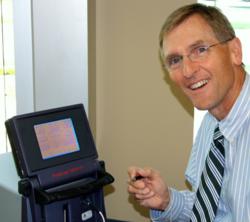 Richardson, TX (PRWEB) September 06, 2012
Kerry M. Goad of Goad Dental offers a discreet option for getting teeth straight with Invisalign. Many patients shy away from wearing metal braces and may not get teeth straightened. The Invisalign procedure uses aligner trays that are made of a clear plastic. Not only are they comfortable to wear, they are practically unnoticeable. This makes it easier for patients who prefer to be discreet about their dental work to visit the dentist for teeth straightening.
While it is true that most people do not have perfectly straight teeth that stay that way forever, it is also true that many people have reasons not to wear traditional metal braces. Dr. Goad understands that professionals who are frequently in the public eye do not want to be seen wearing braces. The Invisalign procedure is perfect for these individuals.
The basic Invisalign procedure requires both impressions and x-rays so that the dentist can create a 3-D model of the teeth. This model allows him to create a plan for making adjustments to trays so that the teeth will move into alignment. The patient is fitted with a set of trays and then returns for a new set of trays every couple of weeks. Regular checkups to determine if the teeth are moving as planned are part of the Invisalign program. The trays are adjusted as needed over time. On average, the process takes about one year.
Not every person is a good candidate for the Invisalign procedure, but many people can follow this program as an alternative way to get teeth straight. It is important to visit with a dentist that has been trained in this procedure to determine if it is the proper course to take. Some of the benefits include the fact that the plastic trays are practically invisible, the trays are relatively comfortable, and they can be removed from the mouth when a person eats. They are also easy to remove when brushing the teeth and when cleaning the trays. There is more information available about getting straight teeth and the Invisalign procedure at dallasgumsurgery.com.
Goad Dental is a general practice offering patients personalized dental care for Richardson, TX. Dr. Kerry M. Goad received his Doctor of Dental Surgery (DDS) from Baylor College of Dentistry in Dallas, Texas. He completed advanced training in restorative dentistry at the L. D. Pankey Institute in Key Biscayne, Florida, and is part of one percent of dental professionals providing the most recent FDA cleared laser procedure for gum disease and periodontal treatment. To learn more about Goad Dental and their dental services visit their website at http://www.dallasgumsurgery.com and call (972) 690-6653.