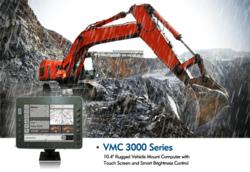 Fremont, CA (PRWEB) September 10, 2012
NEXCOM 10.4" ruggedized vehicle mount computer from the VMC 3000 series is designed to increase productivity and safety in heavy-duty vehicles within harsh environments. The VMC 3000 series features scalable computing power, 10.4" touch screen and various wireless communication technologies. Combined with a robust design and IP65-compliant enclosure, the VMC 3000 series gathers, displays, transmits and receives information to help optimize route planning, increase situational awareness, and monitor vehicle status. With these capabilities, it is ideal for use within a variety of rugged vehicles at construction sites, mines, quarries or warehouses.
The vehicle mount computer VMC 3000 series offers two different levels of computing performance. The VMC 3500/ 3501, based on the 2nd generation Intel® Core™ i7-2610UE processor, are intended for computing and graphics-intensive intelligent systems; the VMC 3000/ 3001, powered by Intel® Atom™ processor D2550, are aimed to meet the needs for both vehicle telematics and energy efficiency.
All models are equipped with a 10.4" touch screen with XGA resolution and supports up to 1000-nit brightness. These vehicle mount computers clearly show information outdoors and even in direct sunlight.
The VMC 3000 series has built-in GPS receivers and allow for Bluetooth, Wi-Fi and 3G expansions. Combing the optional J1939/1708 interface, these vehicle mount computers has the ability to gather, transmit and receive vehicle parameters, which are key factors to workplace productivity and safety.
Ruggedly designed to withstand against adverse operating conditions, the VMC 3001/3501 is encased in an IP65 enclosure that offers complete waterproof and dustproof protection. With an IP65-compliant front panel, the VMC 3000/3500 is ideal for use in the harsh working environments, while minimizing challenges that may occur in such conditions. In addition, the flat front surface prevents false touches from outside sources. As for usability, ten configurable function keys provide for user-specified tasks along with LED indicators for battery voltage and ambient temperature monitoring. Anti-shock, anti-vibration and wide voltage input from 9~36V are invariably supported by NEXCOM vehicle mount computers.