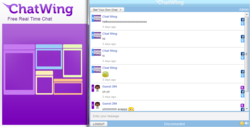 Los Angeles, CA (PRWEB) September 14, 2012
Facebook gamers are still going to the mattresses because of the rampant growth of the Mafia Wars community. This Facebook social game has gathered a lot of buzz ever since its inception and it is still one of the best contenders in social gaming today. The Chatwing Development Team has then observed the rise of Mafia Wars blogs. To help these blogs create a stable subscriber base, the Chatwing team has introduced a blogging chat box with improved social media usage, effective access rate, and wide customization options.
Based on the observation of the Chatwing Team, Mafia Wars bloggers are often using their blogs to grow their Mafia—the denomination of their friends in the game. Obviously, the higher the Mafia is, the better gameplay will there be. These Mafia Wars bloggers usually discuss important tips in the game, such as bonus crates, best items, collections, properties, and many more. Chatwing's free shout box can help these bloggers interact with their visitors by being more concise in their approach; they can now post quick updates which will be appreciated by visitors who want more information regarding the game.
Chatwing developers have included social and browser games in their strategic expansion plan. They operated on the fact that gaming communities are usually large parts of the Internet. To save more time, the developers have tweaked the chatbox so that bloggers can install it within seconds. After installation, the widget can go live and people can start chatting with leisure. Because of social media option, users can also log in with their Facebook accounts and start sending out invitations. This can help bloggers expand their social networks with ease.
The Chatwing team is always open for suggestions; the developers believe that suggestions can be foundations of future upgrades. The team is also dynamic when it comes to the development of the free chat widget. In this way, the team can observe the needs of bloggers at an improved rate. Daily, the Chatwing team has noted that the chat app is gathering thousands of signups from different communities. This projected income will grow, pushing the team to work with increased speed and vigor.
About Chatwing.com
Chatwing.com specializes in the new field of website chat. Over years, the Chatwing team has introduced live chat widget for hundreds and thousands of blogs. The Chatwing application bridges people from many parts of the world, creating global synergy through the Internet. The shout box can be installed in just seconds, and it can be used for varying purposes such as leisure and Internet marketing. It also allows a user to customize the size, color, and name of the widget. Chatwing is 100% free for everyone.