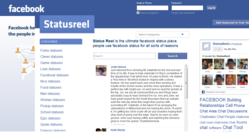 Pittsburgh, PA (PRWEB) September 16, 2012
Game developing is considered by many professionals as one of the most technologically advanced arts of today. Game developers are finding new ways of making their own games and marketing them to the public. Based on the research of the Statusreel team, Facebook is one of the easiest ways of marketing a game online. To help game developers in their craft, Statusreel has launched a Facebook status widget that can be used easily and can also be embedded in a website.
The Statusreel app utilizes one of the simple factors of Facebook today: statuses. Through these statuses, people can expand their social networks significantly. To use Statusreel, a visitor just needs to put certain words in a search bar. Once the visitor confirms, the Statusreel feed will display the Facebook users who have used the same words. The visitor can now send Facebook invitations to these people. Game developers can now add more people in their respective groups. They can also invite these people to visit their development blogs.
To keep the Statusreel application efficient when it comes to speed, the team is pushing for more upgrades in the future. In the Statusreel app, visitors can check out different categories of Facebook statuses that they can copy. Famous Statusreel statuses are funny status, drunk status, love status, and many more. Game developers, especially those new ones in the market, can use these statuses to gather attention in their Facebook accounts. With such statuses, they can attach links to their works.
The Statusreel team has committed to a strategic research, raising the certainty of user influx for many months to come. Through simple things like Facebook statuses, the Statusreel widget can help many people in their socializing and marketing efforts.
About Statusreel
Statusreel.com is a product designed to give end-users an instant amount of Facebook statuses in real-time. Users can search via keyword or by subject matter to see what chatter is taking place publicly on Facebook and the web. Statusreel also allows websites and blogs to embed a Facebook status widget directly into their site. Statusreel is a web-based Facebook tool that is 100% free.