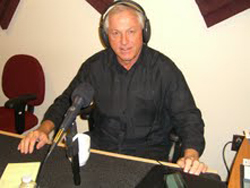 Our goal is to connect the entrepreneurs and the businesses with investment capital.
Atlanta, GA (PRWEB) September 10, 2012
On September 6, 1212, Business RadioX™'s Atlanta Business Radio welcomed Larry White with The Ritz Group to the studio. Co-hosts Lee Kantor and Stone Payton interviewed White about the role of Equity Funding in Georgia's economic recovery.
The 26 year old Ritz Group is Georgia's oldest premier networking organization "connecting" entrepreneurs with equity Capital resources from Angels, Rainmakers and investment funding resources. Simply put, says White, "Our goal is to connect the entrepreneurs and the businesses with investment capital."
In June 2012, the Ritz Group was purchased by Retail Electronic Visions, founded by White. The "new" vision for the Ritz Group is predicated on expanding Georgia's inner circle of funded companies by enhancing the monthly meeting to attract more local investors to return to the market, plus adding a virtual Capital Community that includes all state-wide investment organizations, incubators and entrepreneurs.
White further explained that the Capital Community is a "Match dot com" where investors and entrepreneurs can "find" each other based on their investment criteria. The Capital Community is a social media-based, state-wide eco-system for Entrepreneurs raising capital, plus a point-of-presence for all resources and organizations supporting emerging business growth, to include service providers and sponsors dedicated to accelerating the recovery.
To listen to a re-broadcast of this show in its entirety, please visit Atlanta Business Radio.
About Stone Payton:
For over 24 years, Stone Payton has been helping organizations and the people who lead them drive their business strategies more effectively. He is a Managing Partner at Business RadioX™ and the author of SPEED®: Never Fry Bacon In The Nude: And Other Lessons From The Quick & The Dead, and has dedicated his entire career to helping others produce better results in less time.
About Lee Kantor:
Lee Kantor has been involved in Internet radio, podcasting and blogging since he started the Dr. Fitness and the Fat Guy show in 2005. Since then, Lee has interviewed well over 1000 entrepreneurs, business owners, authors and celebrities on a variety of shows and at live events. In addition to his hosting duties, Lee is a Managing Partner at Business RadioX™ and is committed to helping entrepreneurs and business owners in Atlanta learn how to use radio to dramatically grow their businesses.
About Atlanta Business Radio:
http://www.atlantabusinessradio.businessradiox.com
Each week, from the Business RadioX™ studio in Sandy Springs, Lee Kantor and Stone Payton interview Atlanta, Georgia's top businessmen and businesswomen to learn what makes them the best at what they do.
About Business RadioX™:
Business RadioX™ provides a turnkey solution for business owners who want to leverage the power of internet radio to meet their best prospects, establish credibility for their organization and heighten the placement of their brand in search engines rankings. With a professional venue and a proven formula, Business RadioX™ helps hosts podcast their shows and create a regular stream of dynamic content to share with their prospects and feed the search engines every week. Programs are recorded and streamed live to the internet from our studios in the greater Atlanta area. For more information or to hear a live show, visit: http://www.businessradiox.com.